German Shepherd in Cold Weather can handle eight hours. Some countries have too cold, and all kinds of dogs do not cope in the cold, chilly weather. Here the question comes in mind can a shepherd stay outside in the cold? And how long can a german shepherd be in the cold?.
Yes, stay outside in the winter is easy for german shepherd dogs because these dogs have double coats. The double layer of germen shepherd is helping them and keep them warm in cold weather conditions.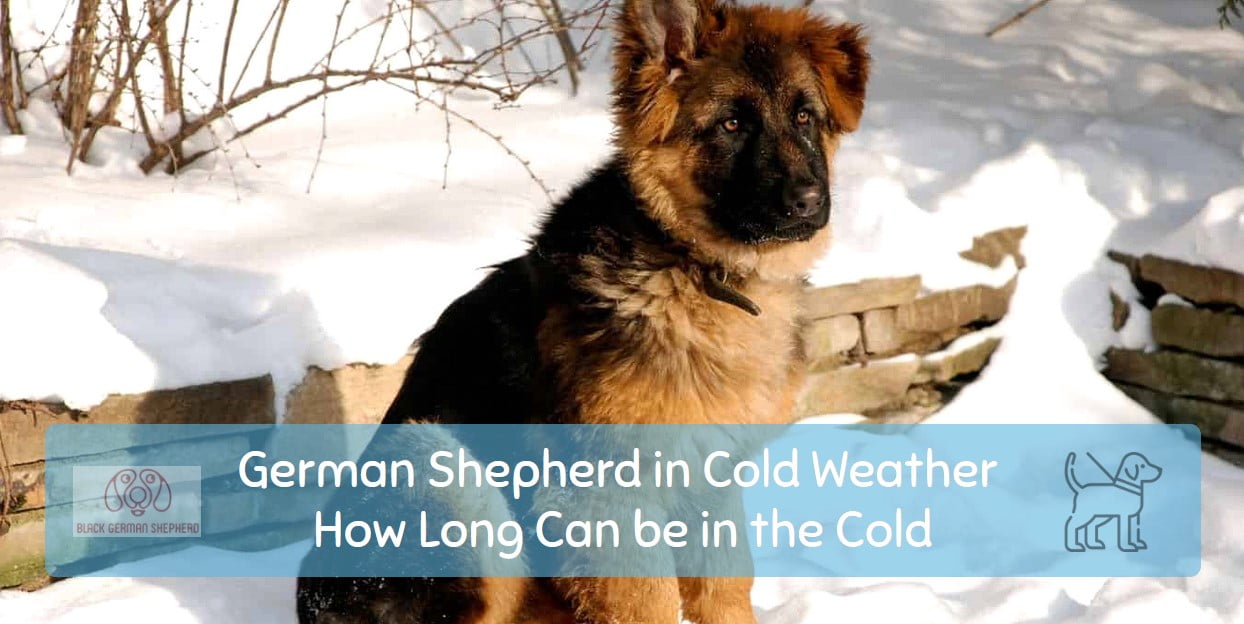 Temperature German Shepherd in Cold Weather
Generally, a temperature below 20 degrees Fahrenheit is dangerous for every dog. So it would help if you learned the tolerance level of your germans shepherd. They are social dogs, but they don't live more than 8 hours in cold, chilly weather.
This article explains how germans shepherd tolerates a severe weather condition or which features make german shepherd warm in snowy weather.
All germans shepherd dogs have double coat its means these dogs have two layers of coat. Both coats, the outer and inner, have their unique characteristics. Moreover, the outer coat of a german shepherd is long and thick, which protects a dog in cold and ice. On the other hand, the dog's inner layer is thick and softer, and it is working as an insulator.
So they make the dog warm in cold weather. Moreover, if the germans shepherd dogs are sitting under shedding, they can spend more time in the cold. Breeders don't trim the german shepherd coat, and it is thicker and longer for tolerating cold weather.
FEATURES KEEPS A GERMANS SHEPHERD IN COLD WEATHER
There are the following features that keep the Geman shepherd warm in cold weather.
Dogs like germans shepherd that have a large mass body, but they cover the smaller surface area. Due to these features, they let out the heat quickly. Moreover, germans shepherd have a well muscular body that keeps them warm during the winter season.
OTHER FEATURES THAT KEEPS THE GERMAN SHEPHERD WARM
Germans shepherd dohs have a brush, thicker tail. This tail keeps the dogs warms in cold weather and minimizes the heat loss through the nose and eyes. Moreover, these dogs have a complex network of veins and nerves in their paws. These veins and nerves are keeping them warm in cold weather.
Like other dogs, the german shepherd has hairs on the body and coat, which work as an insulator. Due to these features, germans shepherd dogs are tolerating cold weather.
DO GERMAN SHEPHARD GET COLD OUTSIDE
Cold weather does not affect too much the activity of german shepherds. According to research and survey, german shepherds don't tolerate the temperature above 0 and -5. Moreover, if the weather is falling or going below -5, you need to care for your dog because it feels cold.
German shepherd dogs love the cold weather and easily bear it if the temperature is not cross beyond its tolerating ability. Moreover, these dogs are playing to enjoy with snow or ice.
WHAT ARE CAUSE YOUR GERMAN SHEPHERD DON'T ABLE TO TOLERATE THE COLD WEATHER
Ordinary the german shepherd is tolerating the cold weather, but in some cases or situations, dogs cannot tolerate the cold weather. Some breeds and kinds of german shepherds are not bear cold weather. Here we mention the top causes when your german shepherd would be put onto cold weather.
If your German shepherd is a puppy, then going and playing in the cold weather condition is not good. Moreover, when the German shepherd is a puppy, they don't have a well muscular and fatty body. So they can't tolerate the cold weather and cold wind.
In addition to this german puppy, the shepherd doesn't have a well-developed coat, hair, and tail, so its body is not warm in cold weather. That's why cold weather is not favorable for german shepherd puppies.
Like humans, dogs also reduce the muscular body and immune system with age. So we can say that with age, cold weather bearing capacity ios decrease.
If the german shepherd doesn't have an undercoat, they do not tolerate the temperature below the freezing point. So we can say that these dogs don't condone the cold weather because they don't have undercoats for warming the body.
If your German shepherd is sick or ill, they don't have sufficient energy to bear cod weather. Moreover, if your dog is suffering from chronic illness, its bearable capacity is more reduced than a healthy german shepherd. If the dog doesn't have a muscular body and it is a week, they feel too cold.
WHAT TO PROVIDE YOUR GERMAN SHEPHERD in Cold Weather?
There are the following precautional tips if your dog is feeling too cold.
Suppose your dog is feeling cold, then providing them shelter, which keeps its body warm. Moreover, if your dog lives in cold weather, then building a small dog house is beneficial. This tiny house protects the dog from cold weather. Also, to this, some kinds of german shepherds are needed heaters for warming the body.
For securing your german shepherd from cold, you must give them water in time and stay hydrated. Freshwater speeds up the metabolism process and keeps the body of the dog warm.
PROPER NUTRITION /BEDDING
Proper nutrition and giving a diet in time are necessary for the dog's health and healthy immune system. Moreover, f the dog has a healthy immune system, its body can bear the cold weather condition. They are so giving good, fresh food at the right time for warming the shape of the dog.
WHAT ARE THE SIGN THAT YOUR GERMAN SHEPHERD CANNOT HANDLE THE COLD?
There are the following signs which identify german shepherd is feeling cold, which include: shivering, burrowing, anxiety and stress, and slugginess.
Can A German Shepherd Freeze To Death?
The German shepherd is a double-coated dog, so they are more resistant to cold weather than other dogs. Instead of that, some german shepherd breeds are dying due to cold weather. Here the question comes to mind: what conditions dog needs special care from freezing, or what type of dog needs special care?
Here we clean you baby dogs, young dogs, pregnant mothers, and nursing mothers die due to cold weather freezing. So they need special care in harsh cold weather.
Can German Shepherds Sleep In The Snow?
German shepherd dogs are working actively in the snow. But when the day is over and work is complete, they are likely to sleep in warmer places instead of snow. Moreover, they are like to sleep in the insulated warmer home or with their owner or family.
Effective Ways To Protect German Shepherd In Cold:
There are the following are sufficient to protect your german shepherd from cold.
Sunlight:
Sunlight is most significant for both dogs and humans because it is a natural and rich source of vitamin D.Moreiver due to the body's vitamin D immune system is enhanced. Resultantly dogs can fight against cold and disease.
Buy a jacket or coat for your dog:
Must cover your dog with a warm, thick jacket or coat.No doubt, it protects your dog from freezing death. So you must wear a coat for your german shepherd when you go outside with your dog in the winter season.
Protection of dogs paws:
The protection of german shepherd paws is critical during cold weather. In case if you don't care about paws, then it causes foot injury. Moreover, the leading cause of this foot injury is anti-freezing read chemicals. So buy a dog shoe for your dog, which saves your dog from cold weather injuries.
See Also:
Reference: https://www.anythinggermanshepherd.com/how-to-qualify-the-amazing-cold-tolerance-of-gsds/