Teddy bear puppies are the mix breeding produced by the crossbreed of Shih Tzu and Bichon Frise's parents. Moreover, in some cases, the teddy bear is a mixing of three breeds. If you are a dog lover and interesting in wanting to know about teddy bear puppies, then you are in the right place.
Moreover, I tell you complete information about the teddy bear puppies like size, temperament, lifespan, feeding, and male/female teddy bear names.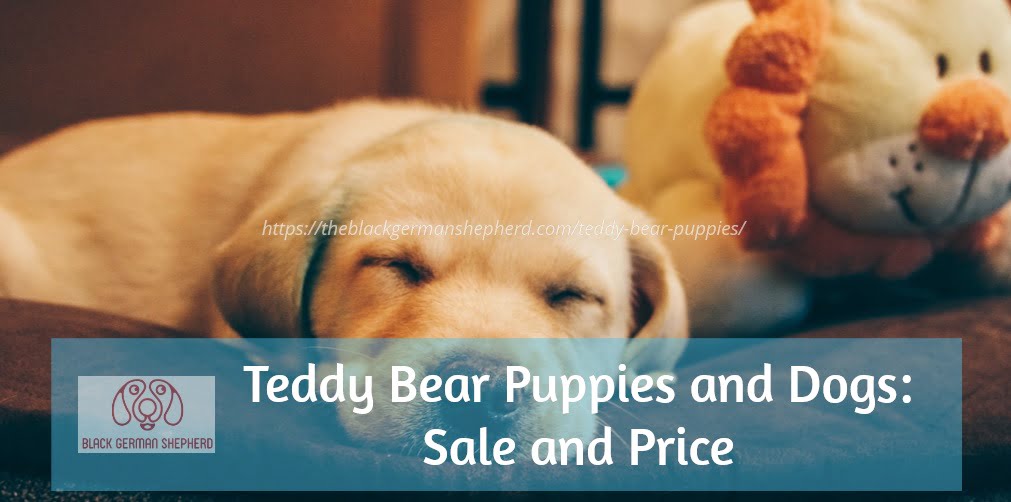 APPEARANCE/FEATURES OF TEDDY BEAR PUPPIES
Teddy bear puppies are smaller in size. They grow mentally but physically; their size remains the same even in adulthood. Moreover, the maximum height is 12 inches. Moreover, when they reach adult age, their weight is approximately 12 to 14 pounds.
2. COAT OF TEDDY BEAR PUPPIES
The coat of these dogs is too soft and fluffy in it is not shed like most breed dogs. Moreover, after a few months, its trimming is necessary. Moreover, they look attractive due to their coat color, which makes them distinctive from other puppies.
3. FACE, EARS, AND EYES OF TEDDY BEAR PUPPIES
Most teddy bear puppies have rounded faces while their eyes are endearing. Moreover, if we talk about these puppies' eras, they have medium-length droopy ears while they have a short fluffy tail. Moreover, due to short fluffy tail, these puppies are looking cuter than other puppies.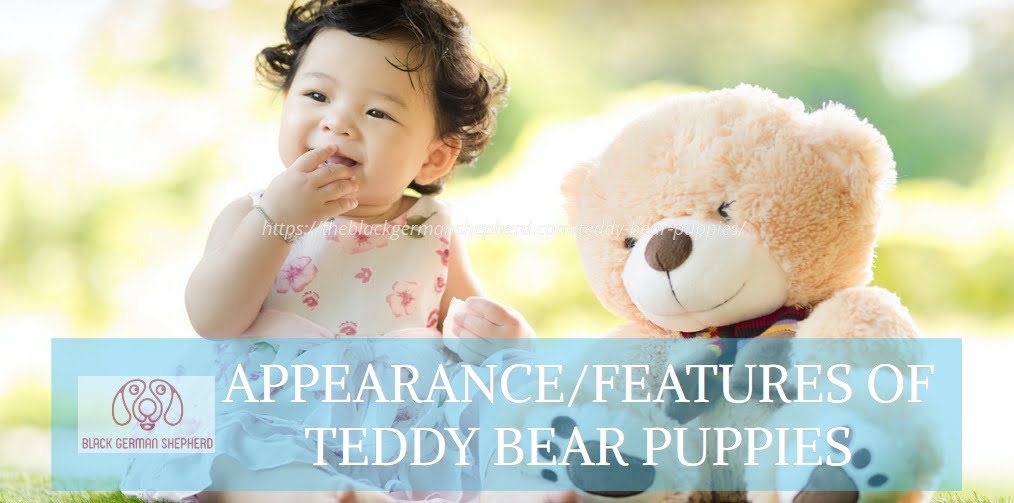 TEMPERAMENT OF TEDDY BEAR PUPPIES
Teddy bear puppies have their unique behavior due to their grooming, socialization, training, and environment. This puppy breed is developed to possess the below-mentioned temperament traits: teddy pear puppies have the right IQ level, so we can say that these are intelligent puppies.
Moreover, due to this reason, groomers are don't feel difficulty in training these puppies. Moreover, they have human-friendly nature, so they love and enjoy the company of humans and pet fallows.
If we talk about teddy bear puppies' vocal abilities, It is clear that teddies are less vocal than other small dogs and puppies.
Teddy bear puppies are much healthier and facing fewer health issues as compared to other small dogs. Moreover, the reason behind this good health is that they are produced due to mixed breed (two or three). Moreover, teddy bear puppies are facing the following health problems :
Having short-muzzled puppies means they are suffering from breathing issues and facing high-temperature sensitivity issues.
2. GRIM AND DIRT IN THE EARS
Regular cleaning of these dogs is necessary; otherwise, their eras fill with dark and dust. Moreover, as a result of disc leaning, they may lose hearing sense.
Regular brushes of coat are necessary. Moreover, monthly washing is required, which saves the puppies from infection.
If you don't regulate brushing, trimming of the coat, and washing, it faces painful hot spots in the skin. Moreover, these pain hot-spots are also causing allergies in these puppies.
Furthermore, if you search what the best shampoo is, don't worry. I tell you about high-quality brands that offer teddy bear shampoo. Burt's Bees Puppy Tearless 2-in-1 Shampoo, Honeydew Colloidal Oatmeal Puppy Shampoo, PET CARE Sciences Sensitive Puppy Shampoo, Wahl Gentle Puppy Shampoo., Paws & Pals Natural Puppy Shampoo.
In addition to this, many other high-quality shampoos are also available you can choose after getting suggestions from the vet. These are the best quality, widely used, and highly recommended shampoo.
LIFE SPAN OF TEDDY BEAR PUPPIES
According to research, the average life span is 15 to 18 years. Moreover, you can enhance it by proper care and diet.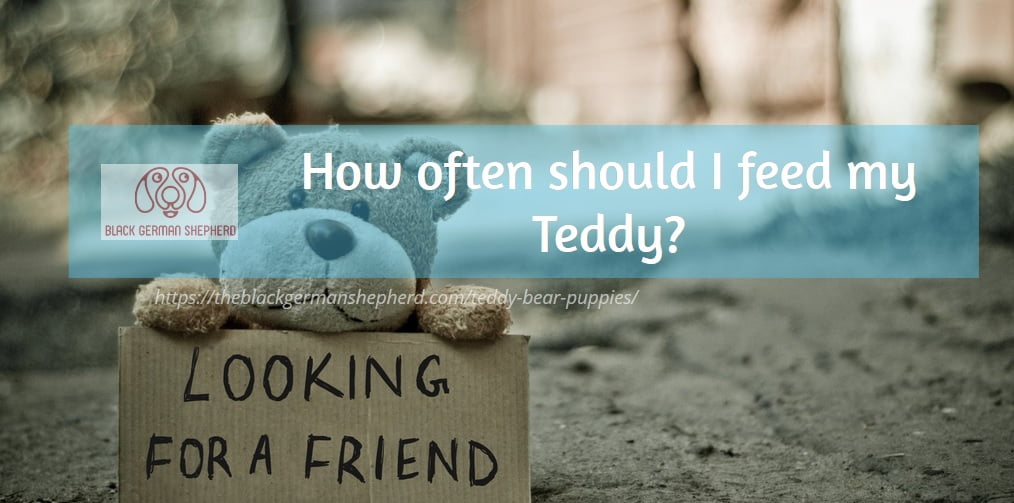 How often should I feed my Teddy?
If you have your teddy bear puppies and are searching for feeding, you are in the right place. Here I tell you complete information about teddy bear puppy feeding. Remember that when the puppies are 5 to 6 months old, they eat at least three meals a day.
Moreover, you can divide the three feeds into the morning, evening, and night. Given a meal at the right time is necessary for the health of a teddy bear puppy. Moreover remember that you must provide meals on time, like lunch at 11 pm, and the next meal is given at 1:30 pm. This gap is necessary for the excellent working of the digestive system.
Breakfast, Meal and Dinner
Moreover, if you don't give two meals in a day, its breakfast must consist of high food ingredients that maintain its energy until dinner. Newborns need a lot of interaction and love. So give meals on time is not necessary. It would be best if you played with these puppies in addition to providing a meal at the right time.
Here the question comes to mind what quantity of meals is sufficient? They need the same amount of food as they eat in the first few weeks. So when you are buying a pup must asking the reader the complete information regarding your teddy bear puppy. Moreover, mostly the eight weeks old teddy bear 1/3 cups of dry food three times a day.
Moreover, remember that it does not increase the quantity of food rapidly. In contrast to this, you must increase it slowly. Here the question comes to mind what the best puppy food is for teddy bear puppies? In the early days of life-giving a baby, food is a good option. When the puppies are move to the next stage of life, you can give him the lamb, chicken after getting suggestions from the veteran or professional breeder.
Moreover, if you talk about teddy bear puppies' cost, they are not expensive puppies ordinarily available for $500.Several websites, a store like Etsy, Amazon, offer teddy bear puppies for sale .you can easily buy from them.
If you have a teddy bear puppy and you are searching for a unique, cute, and attractive name for your pet, then here I mention a fantastic collection of titles.
Teddy Bear Puppy Names Female
Winona

Wilhelmina

Edwina

Maggie

Samantha

Maddie

Ellie

Audrey

Precious

Abby

Bitsy

Coco

Millie

Hannah

Princess

Polly

Taffy

Candy

Penelope

Bella

Wilma

Betty

Betsy
Tommy

Sheriff

Jasper

Ralph

Fred

Bruce

Theodore

Ernie

Bear

Johnny

Dusty

Stevie

Winslow

Keith

Luke

Han

Eddie

Oscar

Bernard

Arthur

Rupert

Barney

Benno

Moby

Vincent

William
See Also: