The major cause of stomach disturbance and vomiting in the dog is food items. Which includes dairy products and spicy food items. Here I give you the best suggestion about giving a dog for upset stomach and vomiting and home remedies for a sick dog not eating.
Moreover, I also mention the best balanced homemade food recipes that protect your dog against diarrhea and stomach issues.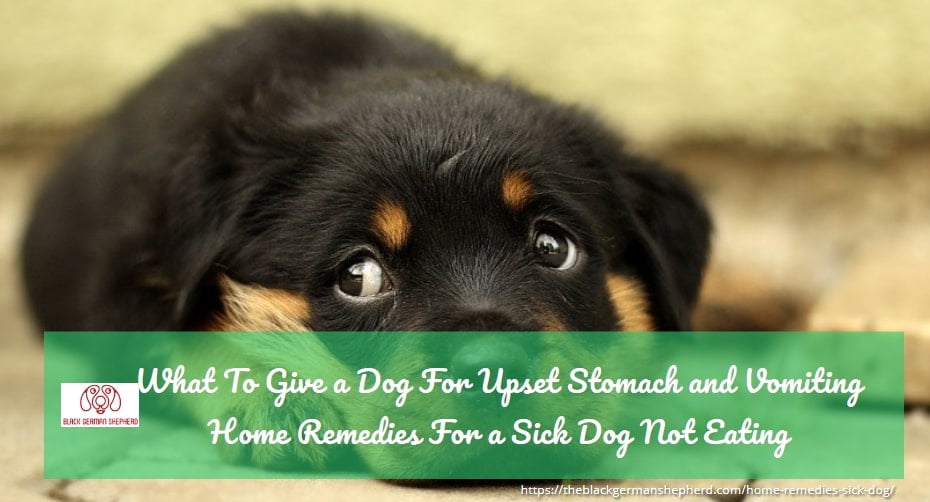 WHAT TO GIVE A DOG FOR UPSET STOMACH AND VOMITING
If you want to treat an upset stomach of the dog at home and your dog is sick but not an emergency, these are excellent tips and techniques:
The first and most necessary tip for treating stomach issues in dogs fast for 12 to 24 hours. If you again feed them during diarrhea and stomach condition, then this food enhances the discomfort. To relieve a stomach issue, the stomach must be empty, and the number of dogs is recovering from diarrhea and stomach issues after 24 hours of fasting.
When your dog is suffering from stomach issues, and vomiting then give them fresh water.
3. BLENDING DIET AFTER FASTING
After fasting for 12 to 24 hours, you give a bland diet to your dog. The best blend diet is for a dog upset stomach is chicken and boiled rice. You add 1 part of boiled, skinless chicken and 2 cups or parts of cooked rice for the recipe preparation. Moreover, don't add any other ingredients like salts and oils. These are not good for treating the stomach.
You can use this rice and chicken recipe 2 to 3 times a day. You need to continue this diet until the complete recovery of the dog from stomach issues and diarrhea. Moreover, when your dog is turned to regular food after facing sickness, use chicken and rice meals at least once a day.
OTHER IMPORTANT TIPS (Home Remedies For a Sick Dog)
For getting quick results, you can add one tablespoon of plain, sugar-free yogurt to the recipe. Yogurt provides a soothing effect to the stomach and also removes unhealthy bacteria from the stomach.

Other dietary items which are beneficial of recovering stomach issue is bananas, oatmeal, sweet potatoes, and pumpkin.

Chicken And Rice

 For Dogs Upset Stomach: Most of the vet recommended a bland diet of chicken and rice for dogs upset stomach. Here I tell you the best way of cooking chicken and rice for dogs.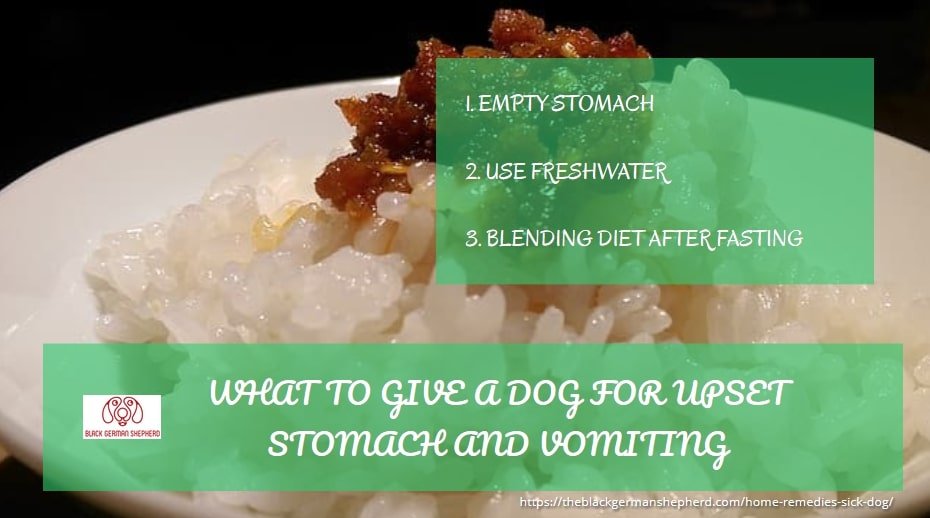 HOW TO BOIL CHICKEN FOR DOGS (Home Remedies For a Sick Dog)
It's very easy to make a balanced diet of chicken and rice; the first step is boiling rice.
The first step is selecting the meat you choose. In case of stomach issues, you choose breast chicken. The reason is that other body areas are fatty, which is not good if the dog is already facing stomach problems.

For removing all the fat from the chicken, you first boil it and remove all the fat from the broth. After removing fat, you use this chicken for preparing chicken and rice bled recipe for dogs.

For treating the stomach, you must use skinless, boneless breast chicken. In contrast to this, if you use another meat, then remove all the small or large bones from a dish.

After boiling, if chicken removes the additional fat and separates the chicken from the broth.
HOW TO MAKE AND ADD RICE FOR MAKING CHICKEN RICE RECIPE FOR DOGS
After removing all fat, cook or boil the rice in the broth of the chicken. It would help if you chose the white rice instead of others because, in white rice, dietary fibers are less than other rice.
Moreover, the correct ratio of chicken and rice is necessary for making a healthy diet. So you can add 2 cups of rice to 1 cup of breast chicken. When the rice is cooked perfectly, then remove the heat from them.
Moreover, you must check the dish before serving it to the dog. It is completely free of heat. This is a very effective receiver of chicken and rice for upset stomach and vomiting dogs.
Balanced Homemade Dog Food Recipes
If you are searching the well balanced homemade dog food recipes, then these are the best and healthy home remedies for sick dog recipes for pets and dogs.
This well-balanced diet recipe consists of 50 percent of proteins, 25 percent of vegetables, and the remaining 25 percent. As a protein food, you can use ground turkey and peas.
Moreover, for veggies and grains, you can use spinach, carrot, brown rice, etc. By mixture this food you can prepare an excellent balanced and healthy meal instead of packing food.
2. Homemade dog food recipes with pork and beef
Just adding this food to your dog diet twice per week, and you can get amazing results. In ingredients of the dish include proteins, grains, apples. Moreover, you can also add blueberries to make it more healthy. Blueberries are excellent protectors against heart diseases.
3. Easy Crock Pot dog food
When you use a pressure cooker, then you choose those veggies that stand up on the heat. The key ingredients of this recipe are brown rice, beans, carrot, and frozen peas. By cooking these food items in the cooker, you can easily prepare the crockpot dog food. These are the baked homemade dog food recipes. [1]
Best Ways Of Cure Dog Diarrhea Fast
The address of the root cause is necessary when your dog is suffering from diarrhea. Below I mention the best ways and tips to cure dog diarrhea fast as home remedies for a sick dog.
Transforming your dog diet into a bland meal is very beneficial for the fast curing of diarrhea. For this purpose, you can use the white rice and breast chicken bland diet. This blending food reduces the severity of diarrhea in dogs.
2. GET SUGGESTION FRO VET
If you can give your dog Pepto-Bismol-according to the vet, the recommended and suitable amount of kennel club is just one tablespoon of the dog of 10lb. Moreover, Immodium is also beneficial for treating diarrhea fast. You can use 2 milligrams of pill of the dog of 40lb weight.
3. Figuring or diagnose the actual cause of diarrhea
Before starting the treatment of diarrhea, it is necessary to address the exact cause of diarrhea. It may be a new meal, a new kind of toy, etc. You can also get suggestions from your vet for diagnosing the exact cause of diarrhea in the dog. Especially if your dog has diarrhea for three days, you must consult a vet for complete treatment.
4. Best dog diarrhea home remedy
These are the best dog diarrhea home remedies. It's very beneficial at the time when the vet is not available.
Diarrhea can be causing constipation in the dogs, so the dog must be drinking lots of water. If your dog does not want to drink too much water, you can prepare a soupy meal for the dog.
Pumpkin is a rich source of dietary fiber, so it is very beneficial for treating diarrhea at home. Make sure you use 100 percent pure pumpkins.
The most effective and balanced diet is a boiled chicken and rice balanced diet. Boil chicken and rice are balanced diets; they are very beneficial for treating diarrhea in-home, and adding this dish in small quantities on your dog's regular diet and continuing until the dog is recovering.
This is an excellent and very effective remedy for giving plain unsweetened yogurt to the dog. Yogurt replaces the harmful bacteria of the stomach and providing a soothing effect on the dog.
Can Boiled Chicken Give My Dog Diarrhea
Boiled chicken is not causing diarrhea in dogs. Instead of that, uncooked chicken is causing diarrhea and vomiting in dogs. If your dog is not vomiting for 8 to 12 hours, you can add the boiled chicken in rice and serve it to dogs. If the condition is severe, then call your dog vet immediately.
You may also like to read: The Doctors Book of Home Remedies for Dogs and Cats: Over 1,000 Solutions to Your Pet's Problems

See Also: