Homemade dog food recipes for skin allergies are very useful when your dog is not feeling good—the most common dietary ingredient which causing allergies in dogs that is protein. The rich source of proteins is meat like chicken, lamb, beef, and dairy products.
Moreover, some other foods like grains and glutenin are also causing allergies in dogs. Wheat and other similar grains in the diet are causing skin allergies in dogs. So here I mention the homemade dog food recipes for skin allergies. In addition to this, I also mention the homemade food recipes vet-approved.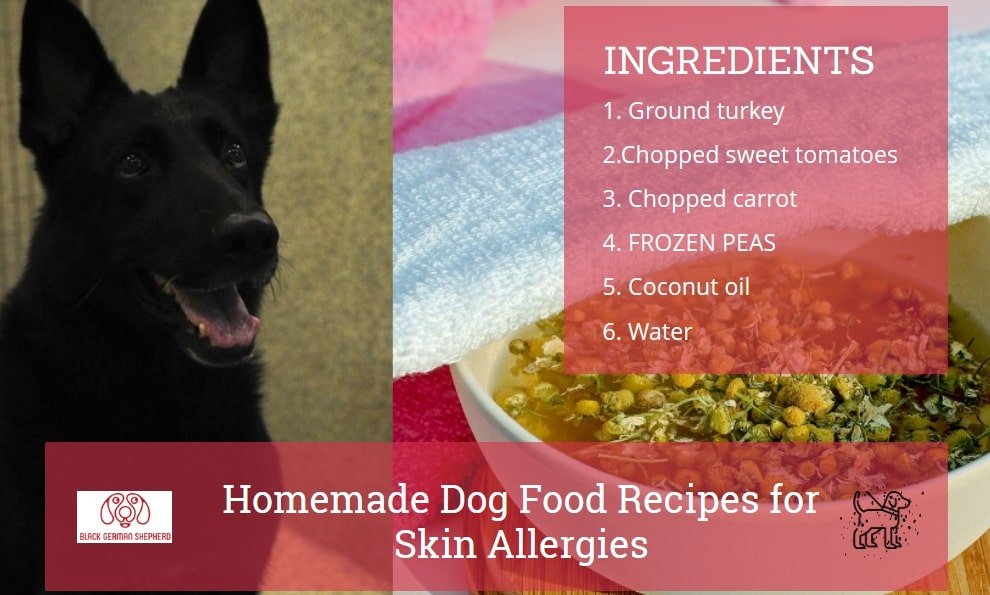 HOMEMADE DOG FOOD RECIPE FOR ITCHY SKIN AND SKIN ALLERGIES
Below I complete the recipe to prepare the best dog food for allergies.
Ground turkey (two pounds)

Chopped sweet tomatoes (1 large sized )

Chopped carrot (1 medium-sized )

FROZEN PEAS

 (1 and a half cup )

Coconut oil

 (2 tablespoons)

Water (add two cups of water)
For making the dish, first, you use the small-sized pot and pan. After that adding the ground turkey in the pan and two tablespoons of coconut oil. After a few minutes, when the meat is completely cooked, you add chopped sweet tomatoes, chopped carrot, and peas.
After adding all the ingredients and adding little water, all veggies are complete and cover the port. When you start cooking, the burner's flame is high, but it turns in to low flame after some time.
Cooking continues for 20 to 30 minutes in low flame.
Lastly, you stir the mixture to remove all heat. When the dish is cool down, you serve it to your dog and pet.
Homemade Dog Food Recipes for Skin Allergies Vet Approved
Before starting the recipe, you must be aware of the balanced diet for dogs. The balanced diet meal of dogs must be consist of proteins, carbohydrates, and dietary fibers.
Moreover, the requirements of proteins vary according to the age and breeding of dogs. Here I mention the best homemade dog food recipes vet-approved. These are necessary to avoid skin allergies.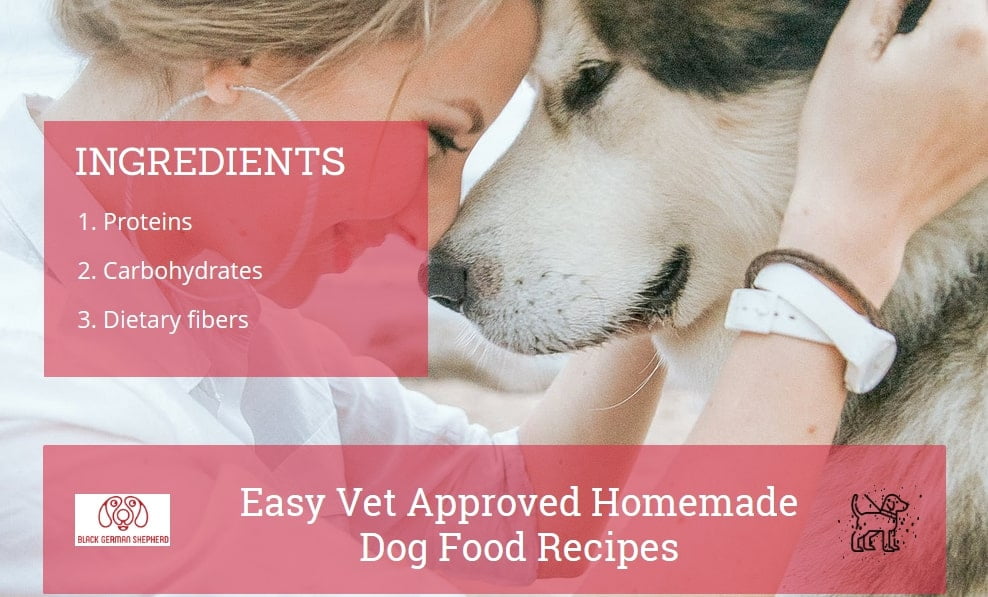 This recipe is suitable for dogs weighing 15, 30, and 60 pounds. The recipe is so easy and prepared by using basic and easily available ingredients.
Ingredients of the recipe are :
Proteins 

-you can use chicken, beef, lamb, and eggs.

Carbohydrates: 

pasta, white and brown rice, sweet potatoes, etc.

Dietary fibers

 -you can use carrots, green beans, broccoli; remember that grains and chicken must be cooked. Moreover, you can use vegetables in both conditions, cooked and uncooked.
Now I tell you the number of ingredients according to the weight of the dogs.
You can use 3 pounds of protein-rich sources like chicken, lamb, beef, eggs, etc. Moreover, the concentration of carbohydrates is 1/3 cups .for this purpose; you can use rice, sweet potatoes, oatmeal, etc. The concentration of vegetables is just one tablespoon for the dog of 15 pounds.
Moreover, you can use vegetables in both cooked and uncooked conditions. Then the last ingredient is adding 1 and 2 tablespoons of vegetable oil which is a rich source of fat.
2. FOR THE 30 POUNDS DOG YOU CAN USE
4 1/2 cooked proteins the protein sources are similar like above: chicken, beef, lamb, etc. Moreover, the amount of carbohydrates is also increased by 2 cups. The suitable amount of vegetable and vegetable oil for 30 pounds dog is 1.5 tablespoons and 2 or 3 tablespoons, respectively.
3. FOR 60 POUNDS DOGS YOU CAN USE
For preparing the meals for 60 pounds of dogs, the amount of protein is higher than before, which is 8 ounces. Moreover, the amount of carbohydrates is also double, which is 3.5 cups of rice, sweet potatoes, barley, oatmeal, etc.
While preparing the dog's best home food recipe, vet-approved for 60 pounds of dogs, the number of vegetables and vegetable oil is three tablespoons and 3 to 5 tablespoons, respectively.
2. VET APPROVED RECIPE NO 2
The founder of the veterinary clinic of California introducing this recipe for dogs of 20 pounds. You can also prepare the recipe using the same ingredients, but the amount of ingredients is very. For 10lb dogs, you reduce the amount of food, while for 40 lb dogs, you can increase the amount of food that is used in the recipe.
Chicken

 -which is completely cooked and skinless (1/4 pounds)

Cooked brown rice

 -1 cup

Chopped pears and carrots 

-1 cup

Vegetable oil 

-1 tablespoon

Potassium chloride

 -1/4 teaspoon cups. The suitable amount of vegetable and vegetable oil for 30 pounds dog is 1.5 tablespoons and 2 or 3 tablespoons, respectively. Our dogs from calcium deficiency, and it is also a rich source of vitamins.
You can serve beef food to your dogs in multiple ways.
Boiling Ground Beef
The meat is the most likable food for every dog, and it is an excellent homemade dinner for the dog. The dog doesn't require a high content of protein meat like fish, etc., so you add beef in their meal. Instead of that, if your dog doesn't like beef, you can use chicken, fish, etc.
Firstly place the meat into the sizeable cold skillet then spreading it into the pan. After adding water, you cover the pan and wait until the beef is cook entirely.
Moreover, after cooking, you remove all extra water from the meat because it increases the weight of your dog. In contrast to this, if you won't gain the weight of your dog, serve the beef with juice.
Sauteed Ground Beef
For making the food more delicious, you can add veggies into beef during boiling or cooking. For one cup of meat, you add two tablespoons of vegetables.
You need to cook the beef until the pink color vanishes from the meat. In the next step, you add the chopped fresh parsley on low heat. This dish is such delicious and healthy food for a dog.
If your dog is suffering from severe skin allergies and itching, you must prepare your dog food at home. For this purpose, you need to choose suitable ingredients that reduce the allergy of your dog. The selection of ingredients is essential for treating allergies.
Moreover, the essential ingredients that are very beneficial for overcoming allergies in dogs are sweet potatoes and turkey. So first, you give a simple diet of set potatoes and turkey to your dogs and examine the symptoms of allergies.
If the severity and symptoms of the disease are decreased, you continue to give this food to your dog. In contrasting to this, if no improvement is seen in the allergy, then calls your veterans to add some other ingredients in dog meals.
MOST COMMON DOG ALLERGIES AND CAUSES
According to Susan's Wayne, allergies happen in dogs due to dietary items. Moreover, the most common foods that cause allergies are beef, dairy products, chicken, lamb, rabbit, fish, etc…
The most common symptoms of allergies in dogs are ear inflammation, vomiting, itchy skin, rough skin, diarrhea, etc., so below, I tell you the best recipe for treating.
For the preparation of the basic recipe, You use a pressure cooker and add 1 cup of brown rice and 2 cups of water. Remember that cook in low flame. The next step is cutting vegetables into small pieces.
You add one or two cups of veggies like sweet potatoes and carrots into the cooker in the next step. After 2 or 3 minutes, you can add chicken pieces to the cooker. cooking process is continued for 5 to 8 hours.
When you select food items for a preparation dish for the dog must examine these food fulfill the nutritional requirements of the dog. Moreover, it's better if you discuss your recipe the idea with your veterans. Moreover, your vet also tells you the amount of meal and serving sizes, etc.
So if your dogs are suffering from itchy skin and skin allergies, then try these recipes and get suggestions from the vet. [more]
See Also: