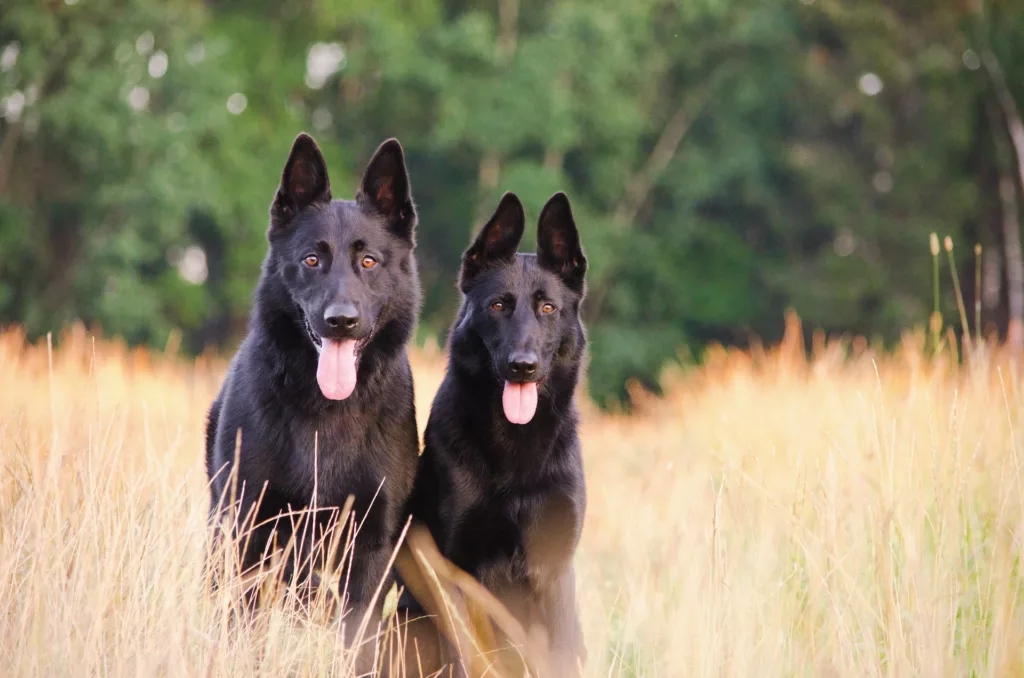 If you want a dog with German shepherd's amazing characteristics, a black sable German shepherd is a bit different and has something special.
Actually, this isn't a crossbreed dog. However, it is a variation in the breed so that it retains the advantages of a purebred puppy.
Belongs to the most famous purebred dog, the German shepherd is popular with its intense loyalty, trainability, and intelligence.
Generally, people love this dog for its sleek, noble look. What makes it interesting is that sable is the German shepherd's original color.
Black Sable German Shepherd's Look
If you're looking for black sable German shepherd puppies for sale, you need to know that they look like other German shepherds. What makes it different is the colored coat.
For your information, this is a large breed. Male black sable German shepherds can reach 26" tall and weigh 75 – 95 pounds.
Meanwhile, females are smaller where they measure 24" or taller. For the weight, they are typically around 55 to 75 pounds.
Then, they have a dome on their heads. Besides that, they have long necks, erect ears, and alert, making them look bigger than they actually are.
When Black German Shepherd dogs are prowling or running, they dip the head low so that they look like a wolf.
In addition, they come with double coats consisting a soft undercoat as well as a dense guard layer. Although the guard layer is commonly medium, it can be longer.
You need to know that the German shepherd has different colors. Besides the black sable German shepherd, other include panda, blue, silver, liver, pure white, and pure black.
Basically, sable means the puppy or dog comes with mostly light-color hair with black tips. So, the puppy looks mottled or grey.
The History of the Black Sable German Shepherd Breed
The German shepherd can also be called the Alsatian Wolf Dog. Originally, this breed develops in Germany for herding sheep.
Besides that, it's also popular as a working dog. Due to its intelligence, trainability, and strength, this dog is useful for military, police, and rescue & search.
At first, this breed emerged in the 1850s. People used the German shepherds to herd sheep.
In the beginning of 20th century, when this breed was imported to the US, it was well known with gangster & bootleggers for its intimidating look, intelligence, and strength.
Even more, it was very famous in Nazi Germany. Because of that, it has a reputation for being a dangerous, intimidating, and fierce breed.
Black Sable German Shepherd's Energy Level
Since they are active and playful dogs, German shepherd dogs need lots of mental stimulation and physical exercise.
Because of that, they do as a working dog very well. In fact, working gives German shepherds both mental and physical stimulation.
Besides that, it is also interesting to please their handlers. Generally, a German shepherd needs exercise about 60 – 90 minutes per day.
However, it can be less when they're still puppies. Basically, you need to exercise a Black Sable German Shepherd puppy for 5 minutes per day until they are adult.
You need to know that a black sable German shepherd reaches adulthood at 18 months.
Furthermore, they like accompanying you on walks, hikes, and other adventures. In addition, they like swimming, too.
Moreover, they do well on the beach, at the lake, and accompany you on a ship or boat. But although they are good swimmers, they must have doggy life vests when you're at sea.
You must also keep in mind that they struggle in a small apartment because of the big size. Ideally, you must give them a backyard so that they can play around freely.
The Temperament of a Black Sable German Shepherd
The Black German Shepherd tattoo and color doesn't affect its temperament. Therefore, you may expect a black sable German shepherd to have the same temperament with other German shepherds.
Then, people often describe them as self-assured and active dogs. That's why they belong to the most perfect working dogs.
Moreover, they are loyal and obedient, too. Even more, their loyalty extends to families. They like having family so that they will consider you & your family as their part of family.
Even though German shepherds bark loudly, they are not aggressive. And, people often associate them with sever bites.
It is because of the popularity of their biting strength. For your information, their bite force is more than 1,060 newtons.
If you want to own this a black sable German shepherd, it requires proper socialization from young to keep its natural protective instinct.
Black Vs Sable German Shepherd
German sable dogs do not carry the dominant gene. But you must know that sable is the default color.
Then, black German shepherd dogs get their black color because they inherit 2 copies of a distinctive, recessive gene.
For your information, recessive genes must be inherited from their both parents to be expressed.
If 2 sable German shepherds that carry the recessive black gene are mating, one quarter of the puppies will possibly be black.
If a black German shepherd dog mates with a sable one that carries the recessive gene, it will rise the black puppy proportion to about half.
So, we can say that mating 2 black German shepherd dogs is the only thing guaranteeing black puppies.
However, a good breeder will prioritize the health over the color. So, you shouldn't be sad if it is hard to find 2 black German shepherd dogs.
In conclusion, black sable German shepherd puppies are not exotic crossbreed. However, it is rare color from the purebred German shepherds.
Black sable-colored German shepherd dogs are rare enough. Therefore, their prices are relatively expensive.
But aside from the unique color, they are actually like others. And, they belong to the most famous breed in the US.
Besides large, they are also strong and have great energy. It makes them good to hard work.
Furthermore, they are intelligent & like to be happy. That's why a black sable German shepherd needs training to complete tasks like the roles of police and military dogs.