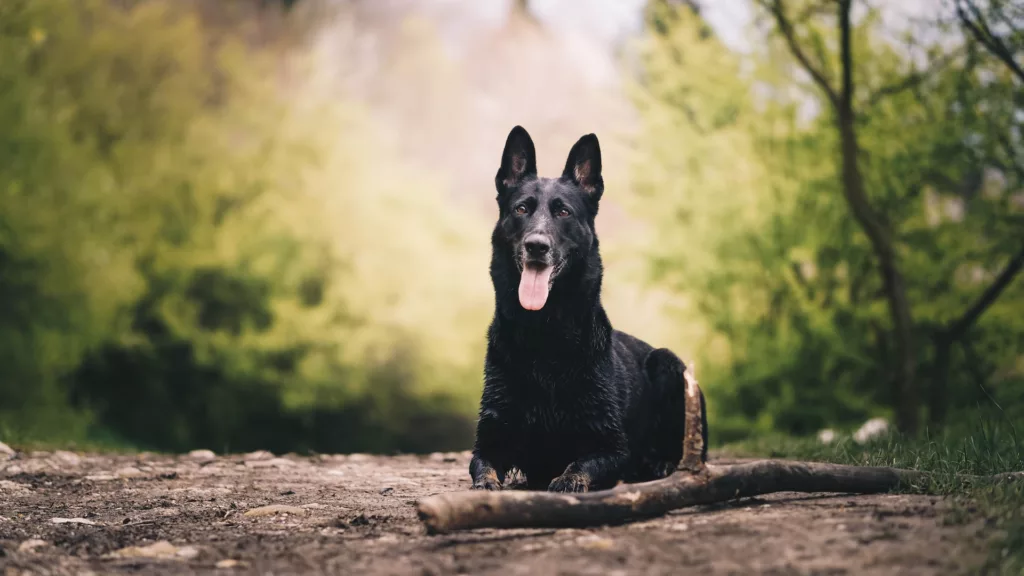 Today, we can see that the demand of tattoos increases. Then, the black German shepherd tattoo is one of the best ideas.
So, if you are a German shepherd owner or lover, you will probably want to have German shepherd-themed tattoos. In fact, this tattoo will be suitable for any body part.
Why a Black German Shepherd Tattoo in Trend?
The German shepherd Wolf Mix is loyal, friendly, and disciplined. Besides that, this breed is very intelligent, too.
People keep this breed due to their guarding, faithfulness & owner-devote natures. Moreover, German shepherds can be the best friend for children.
Usually, owners have the tattoo of German shepherd for expressing their love. Besides that, the tattoo may give a message that life is easy when having a friend like this dog.
As a dog lover, you certainly want a German shepherd tattoo on a part of your body. If you're looking for German shepherd tattoo designs, your search may end here.
In this article, we provide you with awesome tattoo designs of German shepherd. So, just feel free to choose the best one.
What Does the Black German Shepherd Tattoo Symbolize?
It is important to understand the meaning of German shepherd tattoo. For your information, this breed symbolizes the intelligence.
In addition, it also means strength or power. In fact, German shepherd is well known for those characteristics.
Besides that, this breed is popular for its over-protection, loyalty, as well as owner-devotee natures.
Why Do People Want Black German Shepherd Tattoos?
To know about the reason why people want a black German shepherd tattoo, you must understand the relationship between this breed and its owner.
Usually, they have unbreakable relationship with the owner. In fact, German shepherds are like family members in the house.
Because of that, owners often express their love to German shepherds with tattoos. That's the German shepherd tattoo meaning.
Does a Black German Shepherd Tattoo Send Any Social Message?
It is important to know that the tattoo of Black German Shepherd gives a message to everyone that devotion, loyalty, intelligence, and strength are the major qualities leading to a happy life.
This is a message with a deep meaning for society. It means, if you want to have a balanced life and be happy, you must have those 4 qualities.
Does It Signify the Leadership?
Of course, it signifies leadership as people often use German shepherd dogs to lead and protect the sheep flock.
That's why this breed is called 'German shepherd'. So, having a German shepherd tattoo can also symbolize leadership.
Black German Shepherd Tattoo Design Ideas
When it comes to tattoos of German shepherd, there are so many design ideas. Some of the most trending designs include outliner, realistic, flowery, and shaded tattoo.
If you are interested in a black German shepherd tattoo, we provide some best design ideas with meaning to you all.
1.    Shaded Tattoo Design of German Shepherd for Leg
If you are looking for the excellent tattoo of German shepherd for your leg's biceps, this design is a perfect idea.
This nicely created tattoo looks awesome, thanks to the German shepherd's staring look and sitting posture.
This tattoo design has a deep meaning. For your information, it delivers a message to anyone that you're really philosophic.
2.    Flowery Tattoo Design of German Shepherd
It's also a good idea to consider a flowery design for German shepherd tattoo. This tattoo works best on the forearm.
If you want, you may customize it so that it becomes more colorful. This design can be a good idea as it consists of shaded & lined ink works.
Mostly, this flowery tattoo design is applied by women.
3.    Realistic German Shepherd Tattoo
If you want a realistic and colorful tattoo with a German shepherd theme, this design must be mind-blowing. It looks beautiful as it blends 3 colors.
Want to add some value? You may customize the written text on this German shepherd tattoo design.
This tattoo design contains a message to anyone that you are a badass for fighting with badass persons.
4.    Simple Lined Tattoo Design of German Shepherd
Besides that, for those seeking a simple and eye-catching tattoo of a German shepherd, this can be a perfect design idea.
It symbolizes strength & power. Therefore, it gives the world a message that you are a strong, powerful, and intelligent person.
5.    Shaded Realistic Tattoo Design of German Shepherd
Most Black German shepherd Ontario dog lovers want this black German shepherd tattoo. In fact, it makes your body part look glossy.
If you want the same, this tattoo design is excellent for you. You may engrave it on your shoulder, back, biceps, forearm, or other noticeable body parts.
6.    Minimalist Tattoo Design of Standing Ear German Shepherd
Sometimes, people want a small tattoo. If you also love a small tattoo, this minimalist design is suitable for you.
The standing-earn German shepherd comes in a small size but looks impressive. This tattoo tells the world that you're a protector for your family & loved ones.
7.    Shaded Tattoo of German Shepherd on Forearm
Then, this tattoo design also looks amazing. The shaded ink work creates the beautiful look.
If you're interested in a tattoo of German shepherd on your forearm, it will be great to consider this design.
8.    Realistic German Shepherd's Half Face Tattoo
This half-faced German shepherd realistic tattoo design is the next idea. Nowadays, it's very trending, especially among German shepherd dog lovers.
This design doesn't only show that you have a good leadership quality. However, it also shows that you are a disciplined person.
9.    Floral Naturalistic German Shepherd Tattoo
For women who like German shepherd dogs, this floral & naturalistic tattoo design really suits you.
Most women love this trendy tattoo design. This design tells that the bearer women can handle everything in their life.
Even more, this tattoo design also says that the bearer women protect & guard their family like German shepherds do for the owner.
To sum up, black German shepherd tattoo can express your feeling to the society. Besides that, none is able to take it from you.