All cats are amazing, good looking, but the personality and other orange cat features make them different from others. Here the question comes to mind what is the unique features of an orange cat that makes is different from others, and everyone loves them. Most people love orange cats due to its personality, its sweet nature, and it is easy to fit in every situation.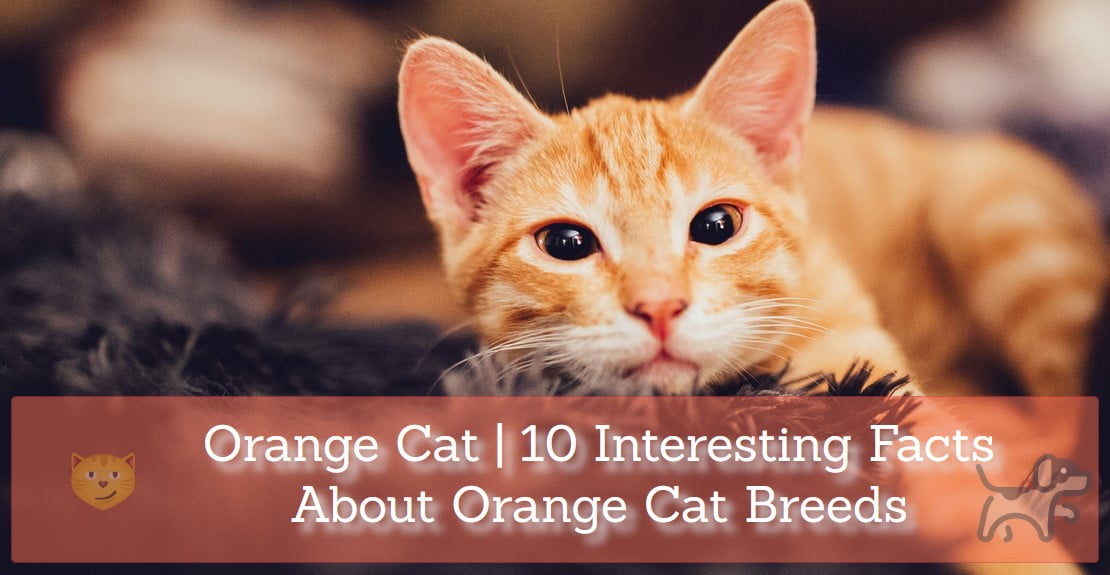 Moreover, the orange cats' fantastic features are their human and pet-friendly nature, and they can adjust to every environment. Most of the light orange tabby has a sign of M letter on their forehead. By seeing this M marking sign, you can differentiate between orange cats and other cats by physical appearance.
PERSONALITY AND TEMPERAMENT OF ORANGE CAT
Instead of other cats taming an orange cat is relatively easy. They are attached to human beings quickly, so they easily understand the owner's order.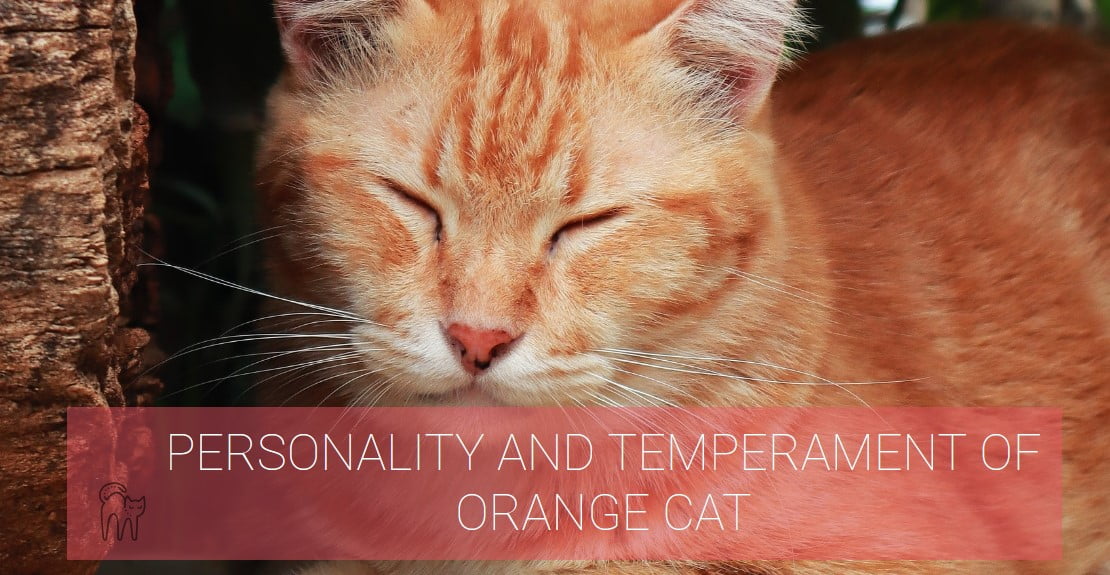 The orange cats are too much tolerant breed. So we can say that they have a functional tolerance capacity for kids and adults—moreover, most people using these cats as a family pet due to their friendly nature.
Orange cats have the right IQ level, so we can say that they are brilliant cats. Moreover, these carts are very keen to learn new things in addition to this organ e cats exotic in learning video games and playing with toys. So due to their keen understanding taming an orange cat is the first choice of cat lovers.
Here I mention the five most famous and unique orange cats, which include long hair orange cat, a cat with red fur.
Mackerel Orange Tabby Cat
Firstly, if we talk about the mackerel orange tabby cat's physical appearance, then narrow strips are seen, which is parallel to both sides of the cat. Due to this strip's body pattern, they are known by the name of Tigger cat or orange and white striped cat. That why everyone wants to buy a mackerel orange tabby cat of home pet.
Classic orange tabby cats are the most common types of orange cats. These cats have a beautiful designing back portion, which is looking similar to a marble cake. Moreover, in the body of these cats' light, dark orange swills are visible, which looks like a bull's eye.
The body of the spotted tabby cat is full of small and large spots. Moreover, most of the biggest sports are brighter than smaller ones. Due to these spots, people don't identify the spotted tabby cats just by physical appearance. Their spotted body is looking the same as mackerel stripes. But here I clear you both of cats spotted tabby and mackerel are genetically different from each other. [1]
Orange Bi-Color Spotted Tabby
Orange Bi-Color Spotted Tabby also have spotted body pattern, but these cats are less common than other types of cats. Moreover, these cats have patches on their fur instead of stripes and swirls. Furthermore, these cats have darker orange spots on their body as compared to other cats.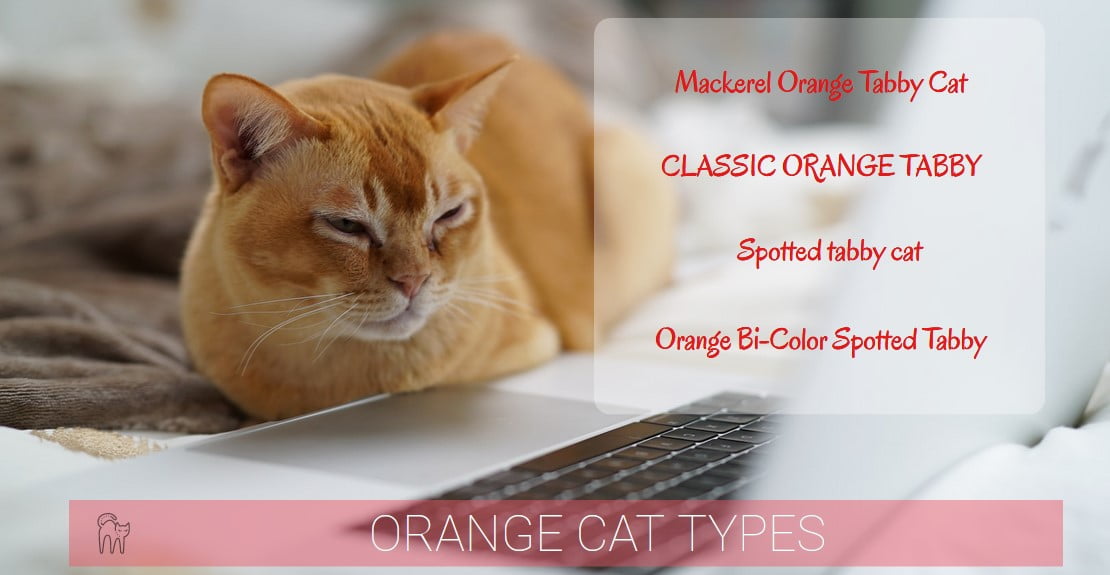 10 Exciting Facts About Orange Cat Breeds
There are the following interesting facts about the orange cat.
Only about 1 in 5 orange tabby cats are female
Scientists say that the orange color of this cat is due to sex-linked genes. Moreover, it is scientifically proved that the orange glow of these cats is due to x chromosomes. Here the question comes to mind why most orange cats are males?.
The reason is that female's posse xx chromosomes while they make cats poss XY chromosomes. So male cats need only one x chromosome from their mother to become ginger—that is why these traits are dominant in male cats.
Orange tabbies are not a breed.
Most people are don't know the meaning of the term tabby. So here I clear its means a specific marking on the cat's body instead of breed. Tabby is the name of the most famous silk fabric, which is made in Bagdad. Moreover, the tabby or strip markings on the cat's body are due to a specific gene named the agouti gene.
Four different patterns are seen in these cats —and none of them is solid orange:
Four unique tabby markings are seen on the orange cats.
The strips of the mackerel's body are like a tiger—that why these cats are called tiger cats.
In these cats, pieces are looks like a dyed pattern.
In these cats, the strip's appearance is similar to salt and pepper or sand.
These cats have spots on their body.
A specific pigment is responsible for its color
After research, it proves, the cat's orange color is due to specific pigments known as pheomelanin. Moreover, the same pigment is responsible for producing red hair in humans.
Ginger fur is more likely to be found in certain cat breeds.
These orange tabby cats are present in different areas like Persian, Munchkin, American Bobtail, British Shorthair, Bengal, Maine Coon, Abyssinian.
Food lover, obese and lazy:
All orange cats are food lovers, and they mostly obsess and lazy cats.
LIFE SPAN OF ORANGE TABBY CATS
Here I clear you the life of these cats are depends upon the specific type of breed instead of the body pattern of cats. Moreover, according to the research and survey, these cats' average life span is 10 to 16 years.
M Marking On Their Forehead
People like the M sign of an orange cat, which is visible in a cat's forehead. Moreover, different people have different thinking about this M. Some people think that M represents the virgin while the Islamic people say that it means Mohammad. We can say that this is most adoring and M marking, making these cats different from others.
Like other cats, orange cats also show amazing, unique personalities, which depends upon the color pattern and its surroundings.
See Also: