Northern Inuit dogs are recently develop breeding dogs. These dogs have a closet resemblance to wolves. Breeders are working hard in the breeding of these dogs to making these dogs family pets. Because of wolf appearance and nature training, breeding, grooming, and creating love, nature is quite tricky in these dogs too.
Northern Inuit dogs are gaining popularity due to their unique and distinctive features and qualities. If you are also a northern Inuit dog fan and want northern Inuit dog adoption, then you are in the right place.
This article tells you complete information about north Inuit dog, including northern Inuit dog puppies for sale, northern Inuit dog rescue, northern Inuit dog association, its temperament, adoption, price, etc.
The History of the Northern Inuit Dog:
In the 1980s, several dogs from North America were brought to Britain. The dogs were bred with selected northern breeds like Siberian Huskies, Malamutes, and German Shepherds to create a wolf-like dog that could be used as a family pet or who would still work hard. The Northern Inuit Dog was the name given to the resulting dogs.
Since the 1980s, the Northern Inuit have come a long way; for the past 20 years, Northern Inuits were bred exclusively to other Northern Inuits by the Northern Inuit Society. There has been no cross-breeding or mixing of breeds.
The Northern Inuit today is a distinct breed of dog with unique characteristics. Many people wonder if the Northern Inuit has any wolf content. The answer to that question today is no. If there were, it would be reduced to nearly 0%.
The Northern Inuit Dog is thriving and has a long waiting list. Northern Inuits were bred only in the UK and Ireland until 2014, but their puppies have continued to travel to other countries, including the USA, South Africa and Germany.
In June 2014, South Africa was home to the first litter of Northern Inuit outside of Ireland and the UK. The Northern Inuit Society has now established breeders in South Africa and Switzerland.
Although Northern Inuits have not been registered as a breed with Kennel Club, the Northern Inuit Society is working towards this goal.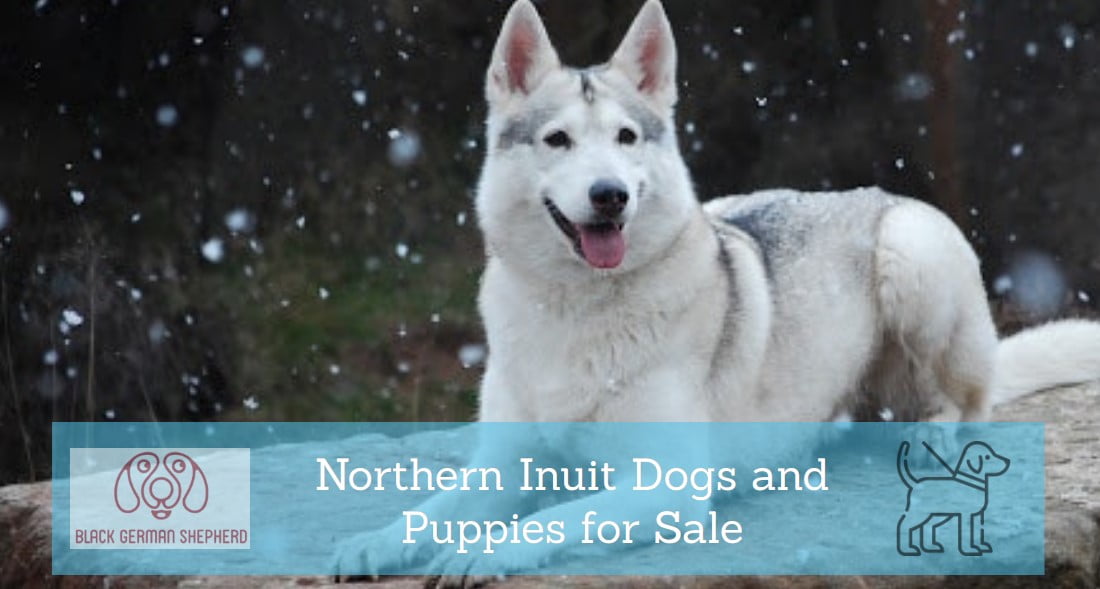 APPEARANCE OF NORTHERN INUIT DOGS
They are mainly medium to large size dogs and have an athletic, muscular body. Moreover, multiple varieties of coat colors are available in these dogs. They are primarily present in white, sable, grey apricot, and black coat color.
Sometimes mixing of two color coat are also seen in these dogs. Moreover, these dogs have the same size as the skull and muzzles, while the song's head is well balanced.
According to research, these dogs have different eye colors like black, brown, etc. The shape of the eyes is oval. Further, if we talk about the dog's tail, it is a hairy and curved shape. The curve of the tail is showing when the dog is move or walk.
These dogs are the Dire Wolves of Game of Thrones. However, they were not bred to look like the Dire Wolf (a species now extinct). The American Alsatian is a better match if you're looking for something closer.
The height of female dogs is between 59 and 71cm, while male dogs' height ranges between 64 to 81 cm. Furthermore, if we talk about the weight of these dogs, then the female dog's weight is low than that of male dogs. The weight of a female dog is between 25 to 38kg, while the weight of a male dog is between 36 to 48 kg.
The double coat makes their coat waterproof. The coat should measure approximately 2 inches long. The coats of these dogs can be thicker in winter and thinner in spring.
The Northern Inuit Dog's classic color is the grey-white mix, which you would associate with wolves. However, other coat colors are available for Northern Inuit Dogs, including grey, white, and apricot,  sable, black, and any combination of these colors.
NORTHERN INUIT DOG TEMPERAMENT AND CHARACTER
The breeder works hard to make the dog friendly and confident in its good temperament; these dogs are using therapy dogs. These dogs are enjoying the presence of humans, and they are suffering from anxiety if they are alone in the home.
So we can say that breeder makes them excellent family dogs and build a strong relationship with the families in a short time. In addition to these features, northern Inuit dogs are giving too much respect to their owners.
According to the survey, northern unit dogs are also shown good behavior with strangers, and they are very trusting dogs. Moreover, these dogs also have a good reputation with children, so overall, we can say that northern Inuit dogs have a wolves-like appearance, but they are very loyal, friendly, and proactive dogs.
Moreover, due to its loyalty and proper protection, quality people use northern Inuit as guard dogs. These dogs are facing the problem of anxiety in loneliness. But you can treat these problems by regularly training, exercise.
For the training of northern Inuit dogs, a senior breeder is required, like timberline northern Inuit and Chandrika northern Inuit dog breeders, who are well professional in their working and offering north Inuit dog puppies sale.
In addition to this, you want to adopt a northern Inuit pup and dog, then northern Inuit puppies for sale in Florida are also available. These dogs are over-sensitive and too loud, so they need a breeder who breeds them with patience and understanding. However, trainers are working hard to keep them fresh and excited for further activities during the training.
Moreover, training in northern Inuit pups needs to start at an early age. Here we give one suggestion to owners and breeders that are must follow the precautionary measures when you train the hunting activities to your dog. Remember that early training is necessary for controlling the northern Inuit dog and pup.
GROOMING OF NORTHERN INUIT DOGS
Frequent training is necessary for maintaining the appearance of the dog and its condition. Moreover must check the ears regularly and remove wax material. Regular ear examination is safe for your dog from an ear infection. It would help if you also had weekly teeth brushing to removing tartar from his mouth and saving them from the disease.
Here we clear you don't take over bath your dog because these dogs do not need bath regularly. So bath these dogs only when they need it. The other important and unique feature of these dogs is that they are shed more than other dogs.
EXERCISE AND ACTIVITY LEVEL
Northern Inuit dogs are don't require too much exercise. Instead of that, regular walking is favorable for these dogs, and they enjoy it. Moreover, these dogs need large rescue outdoor space for roaming and other activities. If you don't concentrate on the regular exercise of dogs and then they show nuisance behavior. Moreover, you can recover it by giving mental situations and regular exercise.
HEALTH OF NORTHERN INUIT DOGS
The most common in northern Inuit dogs are hip and elbow and scoring. In addition to this, the other health problems of this dog are:
Many northern Inuit dogs are suffering from the problem of hip and elbow dysplasia. Due to these problems, they are suffering from pain in a localized area and inflammation. Moreover, this health problem is common in old age dogs.
According to the survey, several dogs of this breed are suffering from the problem of dwarfism. But these health condition issues are less.
Failure of testicles is happening in these dogs due to this problem. Dogs are suffering from cancer. You can treat it by hiring a well professional surgeon in which cancer affected part of the body.
A number of the case are reporting of this breed which is suffering from disability diseases. Moreover, animals are suffering from pain in the limbs in both upper and lower arms.
The stomachs of Northern Inuit Dogs are sensitive. So, their owners often find their dogs prefer a high-quality diet or a raw one. You should ensure that your dog gets a high-quality kibble.
Sugar is very bad for your health, so you should not feed them with sugary foods and treats.
Young pups should be fed 3-4 meals per day.
They should be allowed to have two meals per day from 6 months to one year. When calculating their daily food intake, be sure to include treats.
There is no cross-breeding of these dogs that are still available. Because of its distance and unique quality, the cost of northern Inuit dogs is between $800 to $1000.
Pros and Cons of Owning a Northern Inuit Dog
| Pros | Cons |
| --- | --- |
| Friendly: These Dogs can be very friendly. They're friendly with strangers as well as family members. | First-time owners face challenges: Experienced owners are the best for Northern Inuit dogs. If you aren't familiar with the breed, it can be difficult to train them. |
| Health:They are healthy. You don't need to worry as much about their medical issues as other breeds. | A poor guard dog: They can be too friendly to be a good guard dog. |
| Great with other dogs: This breed is known to get along with other dogs. They're a great choice for families with other dogs, or those who plan to adopt more dogs. | You may develop separation anxiety: They're not happy being left alone for prolonged periods of time. They'e more susceptible to separation anxiety than other breeds. |
See Also: