Black German Shepherd female is a breed that is beautiful as well as intelligent. This breed is a beauty with a brain. The myth that its black color is due to a mixed-race defect is incorrect. It has proven over time that the black color is due to the recessive genes found in both parents.
Black German Shepherd female inherits the same characteristics as a Standard German shepherd does. If you want to know the appearance, size, temperament, price, and health issues of Black German shepherd females, read below: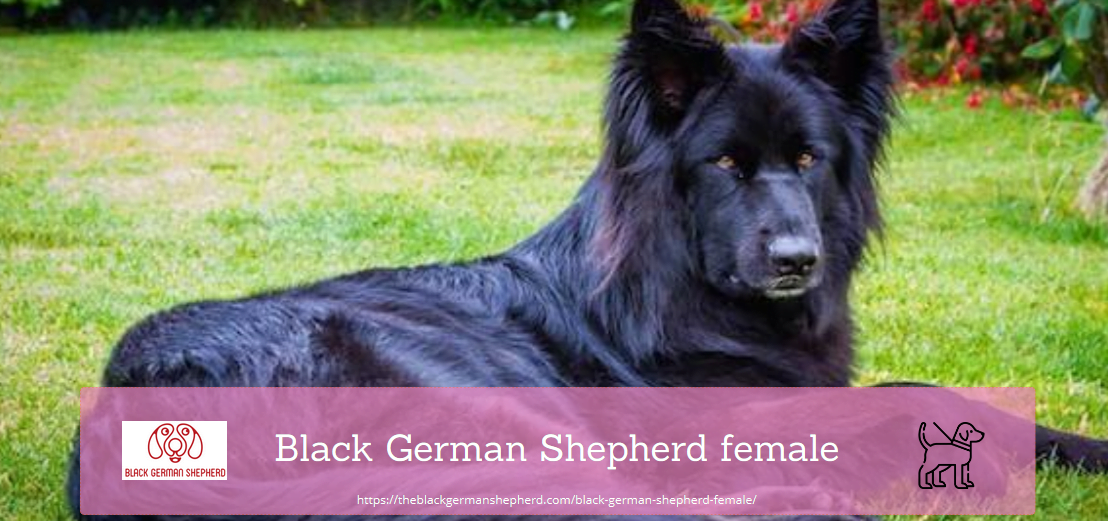 The Appearance Of Black German Shepherd Female
The black German Shepherd Female is gorgeous. Their double coat in inky hues is striking, and those big deep eyes are a treat to watch. Those hazel-colored eyes compliment the dark jacket so well. They have a straighter back as compared to standard German Shepherds.
Size and Weight Of Black German Shepherd Female
Their size ranges between 22-24 inches, and they weigh between 50-75 pounds. They are lesser muscular as compared to male Black German Shepherds.
More accessible to train female Black German Shepherds because of their small size. It is more convenient to train female Black German Shepherds for events because of their easy-going temperament.
Age Of Black German Shepherd Female
The average age of a female Black German Shepherd is around 9-13 years. But they can live longer if taken care of rightly. To ensure a healthy life for your Black German Shepherd, make sure they have vaccinated, clean, and take a proper diet. Exercise is another factor that keeps them happy and healthy. They need at least 60 minutes of exercise daily.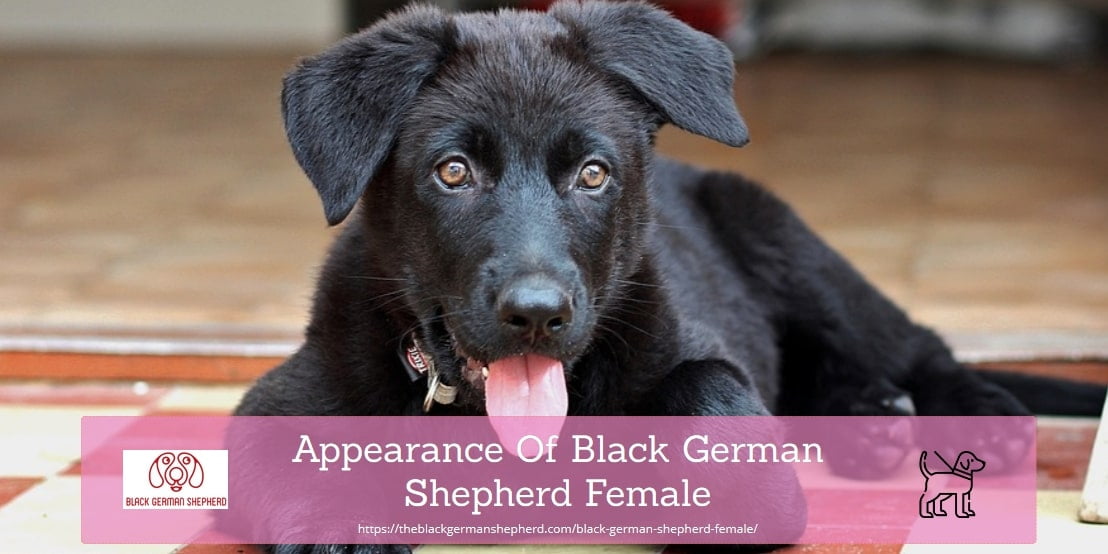 Love, care, and Black German Shepherds females
Black German Shepherd females are very loving and friendly. They will fall in love with the whole family when they enter your family. Unlike male Black German Shepherds who are territorial and love their master only, female Black German Shepherds love the entire family.
Male Black German Shepherds tend to make sure things their favorite and become possessive, but it's not the same with female Black German Shepherds. They tend to treat all the family members equally unless one person adores them more when it comes to taking care of them.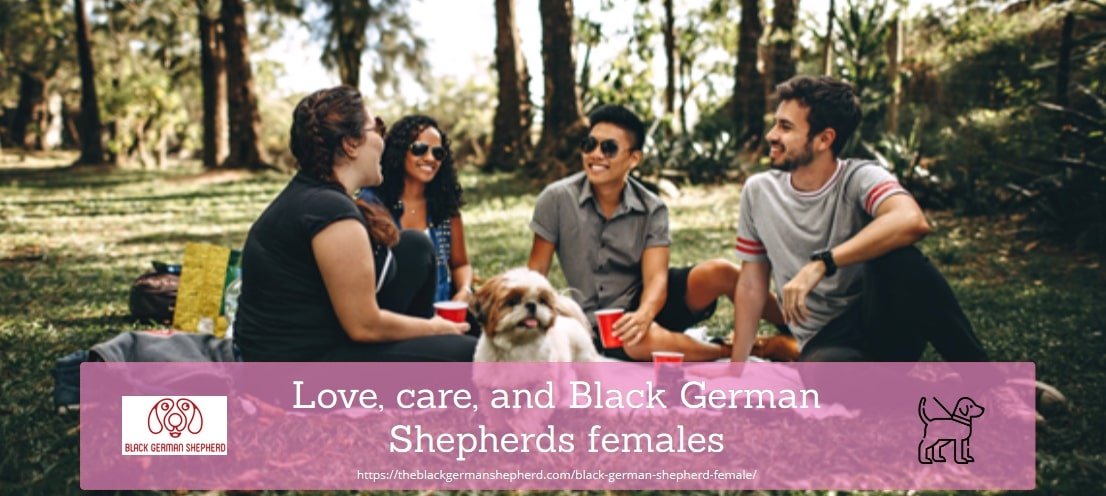 Female Black German Shepherds are generally friendly dogs. They are very friendly with the children. BGS doesn't scare children away or even react if any child mistakenly hurts them. They are very friendly towards strangers as well.
People who keep female Black German Shepherds don't have to worry when they have guests around. They will fall in love with anyone who shows love towards them.
Growing up for anyone isn't easy. It brings its kind of challenges and trials, along with the fun of learning. The same is the case with dogs. Just like children need to go to school to learn and educate themselves, dogs must be trained either at home or at schools established for dogs.
Learning is difficult. It depends on the teachers how easy they make it for their students. Similarly, it depends on the trainers how comfortably they make the dogs learn and how much ease they teach. Training a Black German Shepherd is as important as feeding them.
Female Black German Shepherds are quick learners and easy-going. It doesn't take much effort to teach them, but the training has to be started at an early age to learn quickly and easily.
Physically a Black German Shepherd dog reaches its full-grown size by 18 months to 2 years of age. By two years of age, a Black German Shepherd has matured sexually and is ready for mating.
A female Black German Shepherd dog reaches puberty as soon as six months of age when she experiences her heat cycle for the first time. She can enter estrus as late as two years of age, as well.
A female Black German Shepherd comes into heat or estrus twice a year, i.e., after every six months. A heat cycle lasts for approximately two to three weeks. Some female dogs experience heavy bleeding during this time, and some expertise minimal bleeding.
Do some owners wonder how to know that the female dog is on the heat cycle? The most common physical indication of the heat cycle is the swollen vulvar. Then come the bleeding and then attraction towards male dogs.
Miscarriages
A female Black German Shepherd should be made to reproduce after the age of 13 years. It carries risks of miscarriages or disabilities in the puppies born. Similarly, they should avoid mating before two years as they are not physically and mentally mature enough to give birth. It can cost them their sanity or even their life.
Male vs. female german shepherd/what's the difference between the two?
Firstly, let's look towards the similar points of a male and female german shepherd. Both genders require lots of exercise, training, guidance, and socialization—the difference between the male and female german shepherd due to its breed.
In physical appearance:
The size of the male german shepherd is bigger than a female german shepherd. Moreover, the chest of the male german shepherd is also more profound than that of a female german shepherd. In addition to this, the male german shepherd has a strong muscular body, bigger head, and bones than the female GSD.
In Characteristics:
Generally, both dogs are active, loyal, confident, and having a guarding characteristic. Moreover, the male dogs are more decadent, bold, and aggressive than a female german shepherd. On the other hand, female GSD is more reactive as compared to male german shepherd dogs. At the same time, male GSD is more possessive.
In personality:
If we compare both breeds in personality, then both sexes are groom equally. According to a survey and research male, GSD is more dominant than female black GSD.So not a big difference between the personality of the two sexes.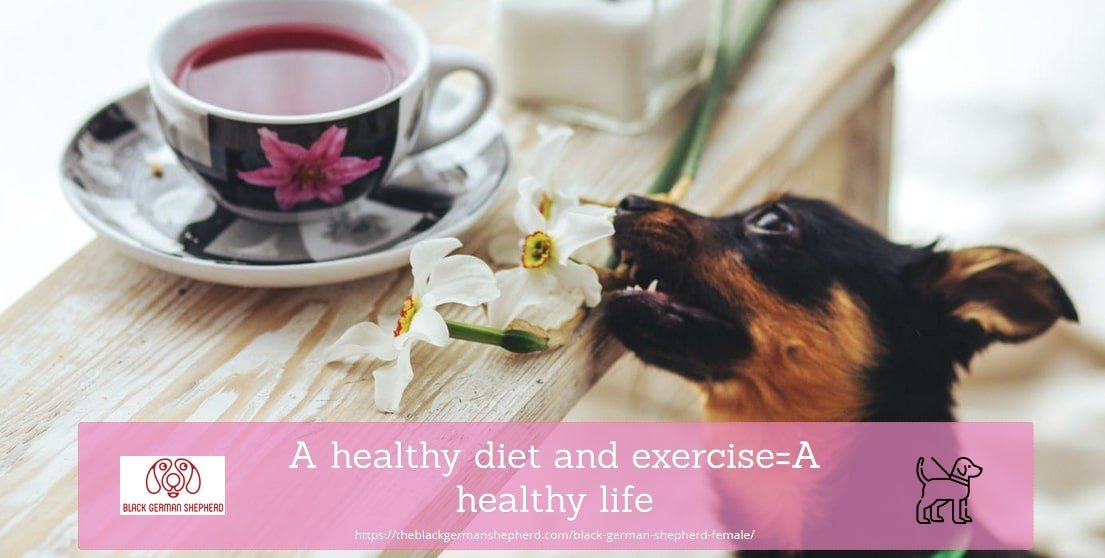 A healthy diet and exercise=A healthy life
Just like male Black German Shepherd dogs, females also require exercise every day. They need to be adequately fed to ensure their nutritional requirements fulfilled — approximately 1000-1500 calories in a day needed by female Black German Shepherds depending on their size. Their diet should comprise of lesser sugar and more protein and carbohydrates to give them energy and nutrition to grow up.
Disease
Their digestive systems are incredibly fragile, so ask your veterinarian about what to give and what to avoid. They should not provide anything lying around; it can cause health issues.
Some common health issues faced by female Black German Shepherds are:
Hip dysplasia
Digestive problems
Spinal disease
Cancer
Eye disease
If you are going to adopt a Black German Shepherd for the first time, go for a female instead of a male. Female Black German Shepherds are more comfortable to keep as compared to males. They don't have dominance issues like male Black German Shepherds have. They are friendlier and more caring.
Quotation
A dog's training makes it whatever it is. If it is aggressive, then it means the dog has not trained well. The temperament of a dog is a reflection of its training. So prepare your dogs well no matter what gender you select while adopting one.
A female dog is the only species on planet earth that can love you more than yourself. The love of a dog can never doubt because it is the most loyal and obedient species in the world. No matter how low you feel, your dog will cheer you up and be with you through thick and thin. A dog doesn't judge you as humans do. It loves you despite your looks, financial status, and the fact that you love it back or not.
See Also: