calcium. In addition to calcium, the bone marrow has other nutritional importance because bone marrow is a rich source of essential minerals and vitamins.
Below I will tell you the best ways of how to cook marrow bones for dogs and how much balance dose is for dogs.
Whenever you want to give your dog a raw diet, add marrow bones to treat in their diet. However, when you search a raw and healthy food for your dog, then marrow bones are an excellent choice and highly preferable.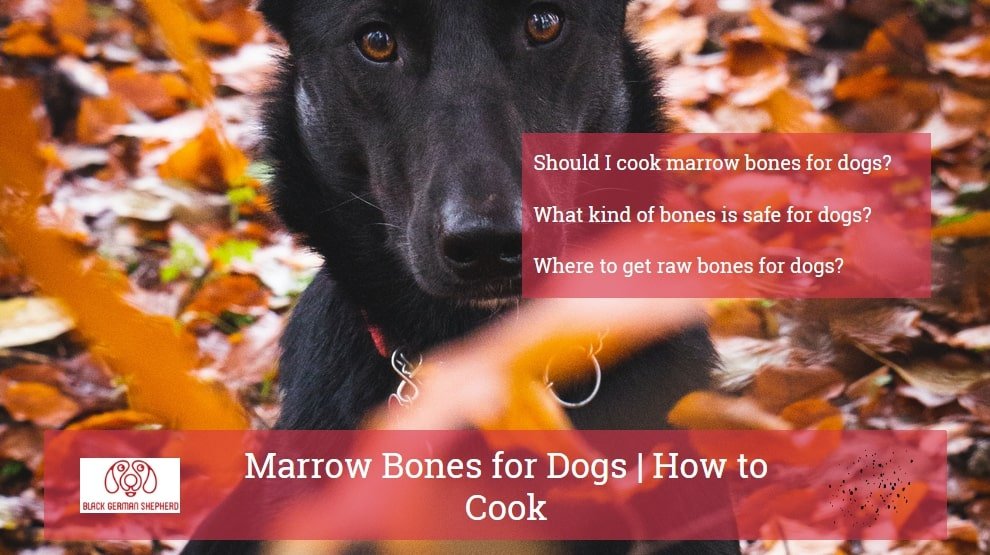 HOW TO COOK MARROW BONES FOR DOGS
Before preparing of marrowbone dish, the first thing is to find the best place for buying marrow bone. The selection of bones is directly proportional to the health condition and dietary requirements of your dog.
Another important thing is the size of the bone. It's not too large or nor be too small. Eating of medium size bone is good for dogs.
After another precaution is cutting the bone marrow at the right place of bone, the preferable cutting is vertical cutting, and because of this, its size is well balanced and circle.
Moreover, this cutting pattern also enhances the presentation of the dish. For enhancing flavor and smell for the attraction of the dog, you can add herb in marrowbone during cooking.
PREPARATION OF MARROW BONE BROTH
The first step is putting the all marrow bone in a pot and add water until all bones are completely dipped in the water.

In the next step, you add 1 or 2 tablespoons of vinegar to remove the smell.

When the boil starts, remove the covering and cook it for 1 to 2 hours on a high flame. After 1 or 2 hours, lower the burner's flame and cook it for 8 to 20 hours.

Remove all the meat from bones until white port bones remain in the cooking port.

In the last step, you need to remove all the additional meat and fatty layer from the water's surface. By following these steps, you can easily prepare the marrow bone broth at home. If you question in your mind how long to boil marrow bone for a dog, then I answer. You must boil it for 1 to 2 hours on high flame and 8 to 10 hours on medium to low flame. If you want to know how do you prepare bones for dogs? Then this is the easiest and recommended way for preparation.
Should I cook marrow bones for dogs?
It's not a good way to serve and give the bones to dogs .so never gives cooked bones to dogs for eating .the primary reason for avoiding cooked bones for dogs is that after cooking, bones become dehydrated splinting breaking is easy.
Moreover, when the dog engulfs these pieces, different organs, and body parts suffer from serious health issues, .it is very harmful to the dog's nose, mouth, throat, and intestine. Moreover, after cooking, all the essential nutrients of bones are wasted. So never serves cooked bones to dogs.
Raw Chicken Bone For Dogs
Raw chicken bone for dogs is a good and essential meal that has good nutritional and health importance. Dogs eat raw chicken and bone full of their protein and other dietary requirements and play a significant role in cleaning the dog's teeth.
On contracting to this, the cooked chicken bones are sharp and hard, which is not beneficial for dogs. Raw feet chicken is a good source of glucosamine which is highly recommended for an older dog to treating the effects of osteoarthritis and teeth deterioration.
PRECAUTION FOR FEEDING RAW CHICKEN BONES FOR DOGS
The first and most noticeable thing is that bones are not cooked. If the bones are cooked, then damage the different organs and parts of dogs like the esophagus, mouth, throat, intestine, etc.
If you know your dog, try to engulf the bone, then prepare the large pieces of bones. Moreover, you can also get suggestions from your veterinarian regarding raw chicken bones for dogs.
BEST BONES FOR DOGS AND PUPPIES
Here I mentioned the best bones for dogs and puppies in 2022.
Remember that bone that you give to your dog must be raw because cooked bones are damaging the organs of dogs. Moreover, you can use raw chicken, lamb, and beef bones. These are soft and easy in chewing and digestion.
Adding raw meaty bones to your diet has good nutritional value. Which is a rich source of protein and other essential nutrients? Here I mention the best raw bones for dogs that are safe for eating. Raw wings are protein factories for the dog. These are helpful during the breeding of dogs, .while the other best raw bones for dogs are :
Wings

feet

Frames

Ribs

Tails
What kind of bones is safe for dogs?
Raw chicken bones and small bones of the body like ribs, feet are safe for dogs. Moreover, you can also find the turkey lamb and beef bones. These bones are soft and flexible and easy to chew. The bone which is softer and safer for dogs are:
These all are best and safe dog bones for chewing.
Where to get raw bones for dogs?
The easiest and most reliable place is to buy the raw bones for dogs through amazon. Amazon.com is highly recommended because it provides the best raw bone for your dog and puppy demand. They sell quality products according to buyer orders.
Moreover, they store in different forms in which include roasting and boiling .you can easily choose one.
You can use lamb bones for dogs with any other cooked bones. Moreover, lamb meat has a significant trial value. They are a rich source of other essential dietary fiber, nutrients, and proteins.
Moreover, lamb is suitable and recommended for these dogs who suffer from severe allergic reactions or skin problems. It's an excellent choice to add lamb bone to dogs' diets because the breaking of lamb bone is not easy for dogs. But remember away from the bone when the dog tries to swallow it.
HOW LONG DO YOU SMOKE BONES
For preparing the smoked bones for dogs, you can cook it in your own house with a natural baton. If you choose the beef bones, they must be cooked for at least 8 hours at 170 degrees. Remember that never overcooked the bones because it becomes sharp and harmful for dogs.
Moreover, there is no need to store the smoked bones of dogs in refrigerators. Just place a bone a few minutes in the fridge before giving it to the dog. For chewing, smoked bones are an excellent choice because these bones are not easily broken. So dogs don't swallow the bones.
There is the only drawback of smoked bones. When you cook it longer, it turns brittle—so overcooking of bones.
Dog marrow bones: how often?
Giving marrow bones to dogs is not a good choice because it is easily broken and damages the teeth, intestine, and other organs of the dogs. So you give marrow bones to dogs every week. Moreover, the overdose of marrow bone in case of the fat in dogs' body and resulting in suffering from diarrhea and other health issues. [source]
See Also: