Owning a pet can be an excellent experience for many humans. Different people have different reasons to adopt a dog. A few may just seek companionship, while others are looking for added protection of their family.
If you want to adopt a dog breed that is loving with your family but also protective and acts as a guard dog, here is a list of family guard dogs you can pick from.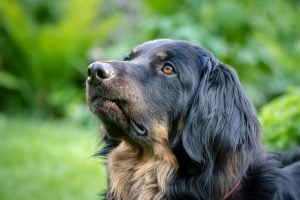 1. German Shepherd:
This breed is automatically the first choice when we think about guard dogs to protect the family. This is the best family and a guard dog, which is large and muscular at the same time gentle towards family members.
They are courageous and are not afraid to put themselves in danger for their loved ones. This is why they are widely recruited as military and police dogs.
The only downside would be they shed a lot as they are double-coated, which is why they may not be suitable for your family if any member is allergic.
2. Shepadoodle:
A German Shepherd Poodle mix is called a Shepadoodle. They have other nicknames, including Shepherd Doodle, Sheppoo, or Shepapoo.
They make excellent guard dogs as well as watchdogs if they are provided proper training. They are not an aggressive breed unless there is an immediate threat, but they are quite alert. They need proper socialization from an early age, and you should train them properly.
As one of their parents is a German Shepherd, you will find many of their traits in Shepadoodle. The good part is that they do not shed much because they have Poodles genes as well.
Their coat is thick and curly, and you do not have to deal with dog hair all over your house. This is considered one of the most significant advantages of owning this dog breed.
3. Doberman Pinscher:
Doberman is an intelligent dog breed that is athletic and can be easily trained. They are really active dogs and need loads of exercise. They also look very intimidating and scary to many strangers that work great if there is an intruder.
When you walk your Doberman, they have such a reputation that people would maintain their distance. This only means intruder will also keep a safe space.
You need to be careful with their training process, though, as they can be destructive if left untrained. Start training them when they are puppies so that they learn early.
4. Rottweiler:
This breed is widely known as a guard dog because of how they look physically and are intelligent. This is a large dog breed that can scare strangers but love their family members.
They need a lot of physical and mental activity to tire them. This dog breed is naturally suspicious of strangers, so as puppies, socialize them to make them confident.
5. Boxer:
Boxer is another guard dog breed that is bright and active. They are very loyal to their owners, great around children, and also fun-loving.
This means your children can play with the dog without any worries. You need to train the dog, though, as it is a large breed dog with a high energy level.
6. Akita:
Akita is originally from Japan and is considered an excellent family protector. They are vigilant and can keep family members safe. They are also playful with their humans.
They distrust strangers and do not do well with other children, teasing them apart from the ones in their own family. But be assured that your family will gain a loyal companion for years to come.
7. Australian Shepherd:
This is one of the most popular dog breeds in the US, also considered among the best guards dogs for families with small children. They are an intelligent and goofy dog breed, which can be fun to be around. They love to play, which is why your kids will enjoy being around this dog breed.
You need to train them from an early age as they are herd dogs and may herd the children in the house. This does not sound dangerous to many, but it is not a really good idea considering the dog's size. If trained well, they can become excellent protectors of your family.
8. Chihuahua:
Not everyone wants a large guard dog. If you are looking for a smaller-sized guard dog which is easy to care for if you live in an apartment, how about the smallest guard dog breed- Chihuahua? They are known to stand up against large animals and humans bravely.
They will definitely let you know if there is any danger through their aggressive barking. It is the best guard dog for senior citizens who cannot handle an active dog breed. Plus, they are small in size, so they do not need much exercise. As they weigh less, there will not be any leash pulling which works ideally for elderly people.
9. Pomeranian:
If you are looking for the best apartment guard dog, the answer is –Pomeranian. They are small-sized dogs but make one of the best guard dogs.
Any tiny noise which is abnormal, and will alert you for sure. Their size is such that they can easily live in an apartment without taking much space, which is the main benefit of owning one.
10. Bullmastiff:
This dog breed is a cross between a bulldog and a mastiff. This breed is strong and fearless. They can be really strong-willed, which is why tough to train if you do not start early.
One advantage they have, which many families that live in a community will like, is that they bark really less. But make a note that they are highly vocal when they sense danger. Their added advantage is that they are intimidating looking, so strangers will automatically fear their presence.
The Bottom Line:
Remember, though every breed has specific traits and temperament, not all dogs are alike. This is why it is essential for you to train your dog to learn what you expect of it. It may be easy to train some dogs and tough to train others. You have to work patiently and consistently with them, and with time, they surely do learn.
See Also: Best Food for French Bulldog Puppy