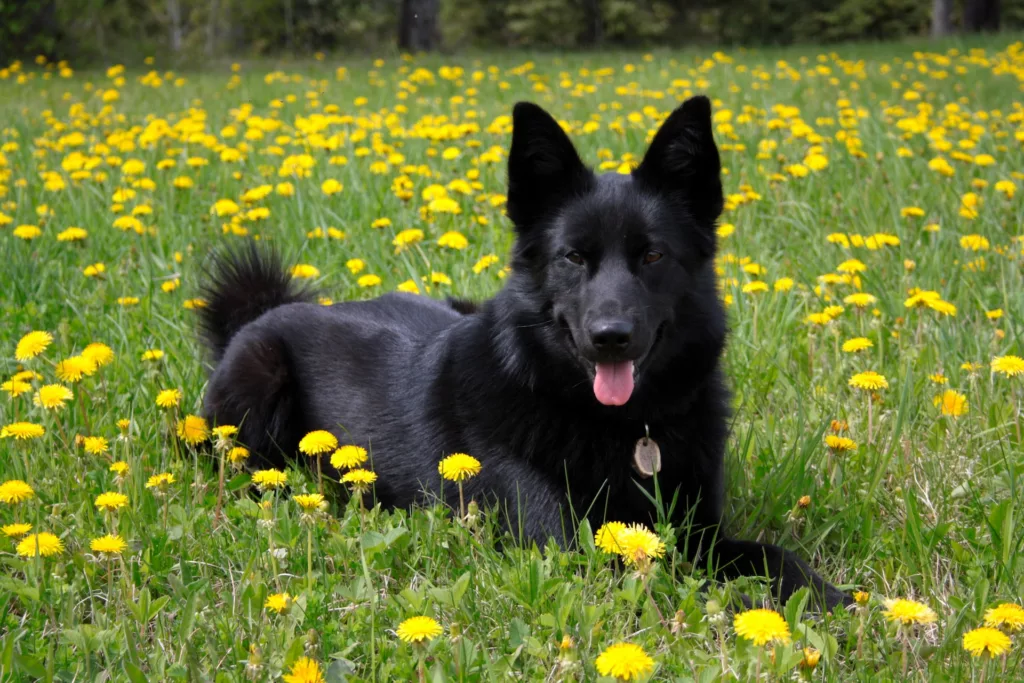 Currently, seal is a mystery for Black German shepherd. So, it is interesting to talk about a black seal German shepherd.
The seal coloration can make a black dog look brownish. However, the nose will remain black.
Then, seal coloration varies such as slight brown and shade as light as liver. Usually, there is a black stripe on the back.
Besides that, the tail and legs commonly remain darker compared to the main part of the dog's coat.
For your information, a seal German shepherd is born brownish and bronzing will develop with age.
Keep in mind that a black seal always has a dark nose regardless of how brownish and light the coat is.
So far, no genetic research is conducted into this coloration. Therefore, what causes it is still unknown.
Even though this might be that the A locus is responsible for this coloration, its mechanism is unknown, too.
Anyway, you can combine seal with other alleles to create Isabella, blue, or liver seal and seal merle.
Black Seal German Shepherd Variability
Seal can cause a less or more pronounced brown, red, or golden sheen on a dog's black coat.
Usually, it comes with a darker coloration and darker dorsal stripe on the lower face, tail, and lower legs.
Maybe, incomplete dominant black which cannot mask a German shepherd's A-locus pattern causes black seal & ghost tan coloration. However, the seal genetics is always a mystery.
Besides the black seal German shepherd, there are still many other variabilities of seal.
One of them is a classic seal where this dog has a dark face mask, a black tail, black lower legs, and a black dorsal stripe.
Then, there is a brindle seal where it includes lilac brindle, blue brindle, or brown brindle. Here, this dog has a less-visible seal effect.
Next, you can find a blue seal where the dog has a dominant black coat color with blue pigment as well as a sable genotype seal.
The next variability is a liver seal where the dog has a dominant black and comes with liver-colored eumelanin causing a solid brown color. People also call it a chocolate seal.
Lilac seal is another variability. This rare combination is barely visible in direct sunlight.
Greying and seal also belong to the variability where progressive greying turns single eumelanin-pigmented hair lighter until the black pigment gets faded to silver.
Lastly, there is a seal merle where this color deletes pigment in the coat pigmented by eumelanin.
Does Black Seal Coloration Affect German Shepherd's Health, Behavior, and Price?
If you are interested in a black seal German shepherd puppy, you need to know whether the coloration affects many things.
Actually, coloration does not affect anything for German shepherds. It means, it will not affect their health and behavior.
However, it may affect the price. Since black seal coloration is carried by a gene, it relates to rarity.
Compared to other colors, black seal German shepherd belongs to the rarest one. That is why it may cost higher.
The rarer color it is, the more expensive they are. In fact, black seal is one of the most unique coat colors of German shepherds.
Black Seal German Shepherd Dog Grooming
If you ask black seal German shepherd breeders, you will know that these dogs are heavy shedders. They shed regularly and seasonally.
Then, they shed more in the warmer months to prepare for summer. So, you should vacuum your black mask German shepherd regularly.
You also need to bath them. However, keep in mind that you cannot let water expose them too much because it can dry their skin.
In addition, you may have to give them a nice brushing once a day / every other day. This will be helpful for shedding & matting.
Nutrition for a Black Seal German Shepherd
If you want to have a German shepherd with any color, you have to meet his nutrition needs. In fact, a German shepherd needs a diet with high protein.
Any German shepherd is very active so that they need serious exercise. That is why you should give them a proper diet that is full of fats, proteins, minerals, and vitamins.
Even more, some owners feed them raw meats. Even though it can be good, some owners prefer a wet diet or dry kibbles.
If you want to feed your black seal German shepherd, make sure that you select AAFCO-approved commercial dog foods.
Training & Regular Activity of a Black Seal German Shepherd
In growing a German shepherd, proper socialization belongs to the most essential things. In fact, it helps curtail their aggressiveness.
Besides that, it channels their excessiveness into any good activity. Since they are intelligent & trainable dogs, German shepherds needs training & socialization since early age.
For example, it will be a good idea to give them mental games and stimulating activities such as fetch games, hide-and-seek, and tug-of-war.
They will not only get their regular exercise needs but it can also activate their mind. If you think about toys, you can consider sensory snuffle meats.
It will be fun to hide their kibbles and treats in these meats. Then, force your black sable German shepherd to use their smell sense to discover the hidden treasure!
In relation to regular activities, they require a lot of exercise. You can take them on a run or introduce them to swimming.
However, you must be careful because German shepherd dogs are not naturally good swimmers. So, you should always monitor them.
Find a Responsible Black Seal German Shepherd Breeder Near You
If you are interested in this dog, keep in mind that you will not know the real coat color of the puppy until your German shepherd turns three years old.
Usually, a good breeder can explain the parents' genetic makeup to guess the potential color of the puppy in the future.
Before you buy a black seal German shepherd, it is important to ask the breeder specific questions as its current health condition, its parents, and the history of the dog.