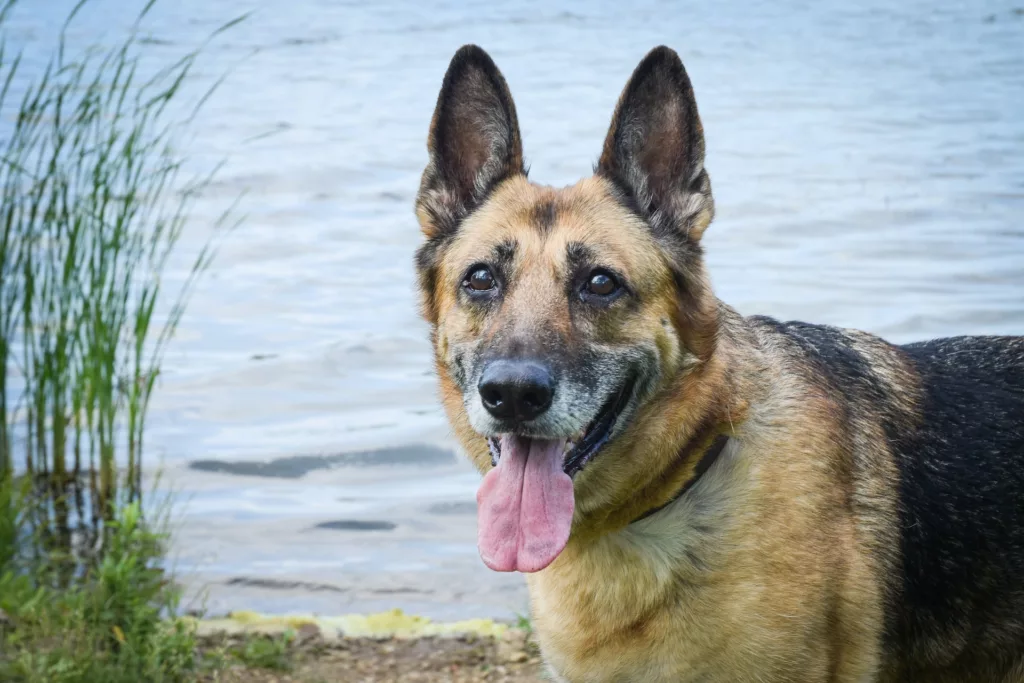 When you think about Black German shepherd, what comes to mind is probably a guard dog. From different varieties available, the black mask German shepherd is among the most popular ones.
If you have ever watched a World War II movie, you must be familiar with this dog. Or, you may have ever watched this dog on The Adventures of Rin Tin Tin TV series.
This dog is popular with its pointed or erected ears. Besides that, German shepherd usually comes in black & tan and has a black muzzle/mask.
This black mask or muzzle is a genetic trait in German shepherds that varies in degree. That is why we call it a black mask dog.
What Is a Black Mask German Shepherd?
Before looking for black mask German shepherd puppies for sale, it is important to know more about this breed.
For your information, it refers to a dog carrying the genetic trait that is referred to as a black melanistic mask.
The mask darkens the hair on the muzzle as well as around the eyes. So, the black mask looks in contrast to the dog's coat color.
The Masking Phenotype & the EM Allele
The mask phenotype is genetically caused by a specific MCR-1 allele or EM Allele. This is dominant over other alleles.
Then, this gene comes with 3 possible alleles. All of them produce the black or dark pigment eumelanin.
The existence of the black mask German shepherd relates to the EM producing black pigment including on the ears, muzzle, and the mask.
Those areas with black fur look have a contrast look with the dog's lighter coat so that it forms a black mask.
That dominant allele takes only one parent for passing along the EM allele.
The standard German shepherd that since pigmentation has a black mask is considered a positive trait.
Then, Black German shepherd double coat colors include brown & yellow or light grey markings, black with reddish-brown, grey with dark shading, single-colored black, black saddle, and also mask.
The E allele is like the EM where it produces the black pigment, too. You need to know that the E-Locus belongs to one of the genes determining the coat of the dog.
German shepherds with a combination of e or E are able to produce a great coat pattern variation.
Black Mask German Shepherd: Degrees of Black Mask
There are a few masking degrees of black mask German shepherds. Then, these degrees may affect the black mask German shepherd price.
In relation to the mask variety of German shepherd, the spectrum of masking includes next, no mask, and on that dominates the facial feature completely.
For your information, the genetic markings, the coat coloring, and the coat type influence the way the black mask is manifested.
Then, the reverse mask is another type of masking. In this form, the mask can be brown or a light color.
So, it is not the black mask determined the EM allele. Now, there is no German shepherd genetic test for determining the reverse mask pattern.
But genetic researchers discovered new E-Locus alleles Eg & Eh which have responsibility for the reverse mask in the English Cocker Spaniel and Afghan Hound respectively.
Since the revers mask German shepherd is not a popular trait, it is still in high demand.
Although they are not a black mask German shepherd, they may come with black markings, especially on the cheeks and brow.
Black German Shepherd
Different from the white German shepherd, the black German shepherd makes a perfect herding dog. However, it is less suitable for a guard dog.
Besides that, black German shepherd guard dog is favored as its coloring will darken the more common coat colors.
It broadens the gene pool and improves the health & trait of the dog over time.
Here, people generally consider the black coat a breed standard. Then, no one associates it with the white-coated cousin.
Meanwhile, this black shepherd is able to carry the black masking gene. So, without a test of DNA, the dark coat makes this undetectable.
Do German Shepherd Dogs Always Have a Black Mask/Face?
As we know, German shepherd comes in different varieties of coat color. Mostly, they have a black face that looks like a mask.
That's why we usually call it a black mask. Besides that, most of them have some types of black marking on their body.
The black body marks include a classic saddle, overall blanket, etc. Moreover, German shepherd sports have rare variations of colors.
Blue, liver, white, black, and sable belong to those rare variations of color.
The black mask German shepherd is a variety of German shepherd dog with a characteristic pattern.
It can be a fawn, tan, yellow, red, or brindle dog features a melanistic mask or muzzle. This black melanistic muzzle can extend even up to their ears.
For your information, this muzzle is inherited as autosomal dominant traits in some breeds. Besides that, it looks like a fixed trait in some dog breeds.
Is German Shepherd Is the Only Breed with a Black Mask?
To find the answer of this question, you must understand that you can find a black face mask on some breeds.
In addition to German shepherd, some other dog breeds also have a black mask. They include Whippets, Pug Dogs, Greyhounds, Great Danes, French Bulldogs, Boxer, Akitas, and Afghans.
Then, dogs with an overall brown, blue, or black coat may have the mask. However, it can be different from the color of the body.
For example, a German shepherd may have a red body coat and a black face mask. Sometimes, German shepherds come with other face mask colors.
But is the German shepherd with a black mask is the rarest one? We cannot say it but we can only tell that it belongs to one of the rarest ones.
Because of that, the black mask German shepherd is very valuable and high in demand. So, it will be a perfect companion for you and your family.