Truth be told: a black German Shepherd is a rare gem. Most aspiring owners are often discouraged about owning one due to the costs. Well, the prices aren't as high as you might have anticipated. In this guide, we will look at the costs of owning a black German shepherd and other interesting facts. Read on how much is a black German Shepherd?
Quick Answer: Price and Cost of Owning a Black German Shepherd?
| Item | Cost |
| --- | --- |
| Buying a black GSD | 700$ to 2000$ |
| Food | 7500$ |
| Grooming | 70$ |
| Training sessions | 600$ |
| Beddings and other accessories | 350$ |
| Vet care | 1500$ |
For a Black German Shepherd, Puppy price may range anywhere between $700 – $2,000
Here is a table summing up all the costs of owning a black German shepherd.
Approximately, you will spend between $12000 and $15000 to take care of the black German shepherd through its lifetime.
The Appearance of a Black German Shepherd
If you're wondering how to spot this dog, then don't fret. German Shepherds have semi-drooping but erect ears. The face appears to have a chisel shape with a long muzzle. It's almost impossible to differentiate between a black German shepherd from a wolf in appearance.
Black breeds have straighter backs compared to the other German Shepherds. They have dense but wavy fur that ends in a bushy tail.
To breed the black German Shepherds, both parents must have the black recessive gene. If you want to be sure about the color, you can breed two black German Shepherds.
Now that we know the basics let's dive right in to calculating the costs of owning a Black German Shepherd.
Price and Cost of Owning a Black German Shepherd?
Owning a black GSD isn't cheap. However, it shouldn't discourage you from owning your dream dog. In this section, we will break down the costs.
Black German Shepherd Puppy Price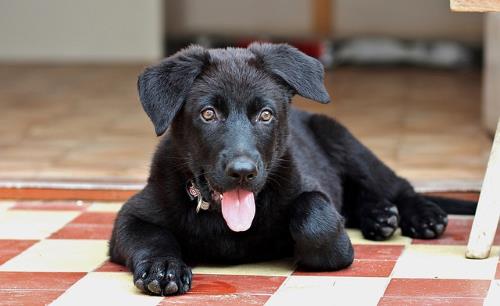 Different sellers will have different price tags for their black German shepherd puppy. The price may range anywhere between $700 – $2,000. By now, you're probably wondering why the vast difference. Here is why.
Knowledgeable Breeder VS Hobbyist
A breeder with knowledge of canine behavior may charge more compared to a hobbyist breeder. You see, someone who has gone to school knows their way around breeding and taking care of the GSD.
The knowledgeable breeder will also invest a lot of money into making sure the parent dogs are well cared for. This way, you won't have problems with genetic conditions that can cost you a fortune to treat and manage.
It's possible to determine the authenticity of a breeder by checking out their website. From the blog, you can tell how much information they have about pets. You can also obtain contact information from the site to help you contact the breeder directly.
Most genuine breeders will also have photos of their dogs. Be wary of breeders who use stock photos on their website because it makes you wonder whether they even have the dogs.
On the other hand, a hobbyist does it for fun. In most cases, these breeders are mainly experimenting. Such sellers are also willing to part with the black GSD pups at a much lower cost.
You may have to spend about $2,000 to buy a black German shepherd dog on average from our research.  
Care Costs
It comes as a no-brainer that you'd have to spend more on caring for your precious furry pet upon getting home. Unlike buying, care is something you will have to spend on throughout your pet's life.
Here is a breakdown of the care costs:
Food
To ensure a healthy dog, you need to invest in high-quality food. The quality of food also determines how long your pet can live.
The average cost of buying food for your GSD yearly is about $800. This cost could go lower if you opt for lower quality food. We recommend feeding your dog with quality and well-balanced food to avoid issues with food deficiency illnesses.
Ideally, an adult black GSD will require a caloric intake of about 2,000 daily while the younger ones will need about 1200 calories. This means that essential fats are a requirement in the food. The proteins should constitute about 18 -22 % of daily food.
German shepherds are known to have a ferocious appetite and rapid growth. It would be best if you took extra caution to avoid cases of obesity and arthritis due to overfeeding.
Grooming Costs
German shepherds shed a lot, and grooming is one main way to control the shedding. For instance, you need to brush the fur 2-3 times a week. You can do this yourself, which will significantly lower your costs of taking care of your GSD.
However, you'll need to spend on essential tools such as nail clippers, trimmers, and de-shedding tools. These are quite affordable, as shown below.
Training Classes
GSD are intelligent and obedient dogs often used in the military. It's therefore wise to have your dog trained so that you can realize its full potential. Besides, a well-trained dog will take commands better and will also have better socialization skills.
A black German shepherd requires 4-8 sessions of training. Training sessions cost $30 – $50 per session. However, if you opt for private sessions, expect to spend between $50 – $100 per training session.
On average, you may have to spend $600 on the training sessions.
Vet Care
Generally, German shepherds are healthy dogs. However, it's important to take essential vet visits to ensure the dog is making good progress. Otherwise, if a black German shepherd dog becomes ill, you'd have to spend a lot of money on treatment.
We advise our pet owners to invest in pet insurance for their peace of mind. This is because having to spend about $4,500 to treat an illness would take a toll on their finances.
Here are the estimates for core vet visits.
Mandatory vaccinations: $75 – $100

Pet insurance: $720 per year

Vet consultations: $100 – $300

Flea and tick prevention: $100 – $200

Rabies vaccination: $15 – $20

Spay and neuter charges: $800
Bedding and other Accessories
You will also spend some money on bedding, toys, and feeding accessories. Most of these costs are one-off.
Despite these costs being one-off, you'll have to replace most of these items at one point in the dog's lifetime. On average, the feeding accessories, beddings, and toys will cost you about $350. The figure may increase or decrease depending on the quality and make of what you buy.
Tips to Lower the Cost of Owning a Black German Shepherd
Every dollar counts, especially in these challenging economic times. If there is a way to help you save, you should try it out. Here are our pro tips to help you save as you take care of your precious GSD.
Don't miss out on the vaccinations.
Most people tend to overlook the importance of vaccinations. Well, missing out on vaccines means that your dog could become susceptible to illnesses. A German shepherd is expensive to treat.
Take a pet insurance cover.
Having insurance cover against illnesses and accidents can give you peace of mind knowing that your dog will have medical care in case of any eventuality. It is cheaper to pay insurance premiums for your furry friend either monthly or yearly rather than paying from your pocket when your dog falls ill.
Take the annual checkups with the seriousness they deserve
Prevention is always better than cure. Annual health checkups can help you discover a condition and treat it on time. According to research, cancer is the leading cause of death in dogs. If cancerous tumors are discovered before they progress, it's possible to treat your dog.
Take vaccinations from cheaper centers.
Did you know that your local dog rescue center offers vaccinations at very low rates? Did you also know that at times the centers offer certain vaccines for free? Well, you heard that right! You can take advantage of these low costs to save on your finances.
Notably, dog vaccines are the same whether you take them from your dog's vet or the rescue center.
Groom the dog yourself
Learning some basic grooming skills can help you save. For instance, you don't have to visit your vet every time your dog needs some nail clipping, hair trimming, or teeth cleaning. You see, every time you visit the vet, you have to spend some money. By doing it yourself, you can use that money on other things.
In a Nutshell
A black German shepherd is a rare gem. It is a pure German shepherd breed and not a mix. The cost of owning one can, however, intimidate most owners. On average, buying a black GSD will cost you about $2,000. Other related costs include vet care, food, grooming, toys, bedding, and other miscellaneous accessories. Approximately, you can spend about $12,000 and $15,000 to take care of the dog over its lifetime.
See Also: