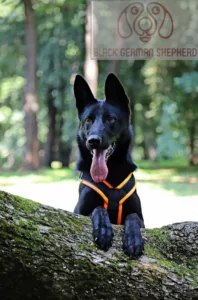 I'm 10 Exciting Facts About the All Black German Shepherd
The all black German Shepherd is beautifully stunning. Black is just one popular coat color of all types of German Shepherds. The German Shepherd is the second most popular dog breed in the US, according to the American Kennel Club. That doesn't consider the various colors their coats may be. The Shepherd breed is highly recognizable, but all black German Shepherds have an extra stately appearance. They tend to stand out from the rest of their breed. It is not difficult to see why, with their gorgeous coats and impressive appearance.
Maybe all black German Shepherds are a bit mysterious since they are not as common as other coat color variations. It may just be because their shiny, jet-black coats make them appear almost magical. No matter what, they are gorgeous dogs.
All-Black German Shepherd Interesting Facts
1.      All Black German Shepherds are the Same Breed as German Shepherd
Some people make the mistake of thinking that the all black German Shepherd is a different breed altogether. This is not true, though. It does belong to the same breed. It is just called the black German Shepherd because it is completely black.
2.      Black Shepherds Have Some Physical Differences.
Like other German Shepherds, the black GS has a large, muscular build and a fluffy tail. They also have ears that stand erect. They have thick, double coats, too, which makes them heavy shedders. So, how are they different? They may be different in a few ways, including:
Their coats are solid black.
Body size can be a bit larger.
Their backs are often straighter than others in their breed.
They may have a longer coat, more of a mane, and a little bit of skirting along their sides.
You may notice some feathering along their ears and the backs of their legs under the tail.
3.      The All-Black German Shepherd is Born That Way.
German Shepherd puppies can be born in a variety of colors or color combinations. Their colors may change as the pups mature. It may be difficult to tell their true coat color until they are about eight weeks old. However, the all black variety will be born solid black and stay that way for their whole life. If you want a black German Shepherd, wait until they are eight weeks old to be certain it will remain black.
4.      Any Color of GS can Produce a Black Puppy.
You read that right! The GS comes in a variety of colors and color combinations. So, a black and tan dog can still carry the recessive black gene, which could produce a solid black pup. However, both parents would have to have the recessive gene for their litter to contain black pups. So, if you get to choose your puppy from a litter, don't be surprised if the parents are not black. However, if two black German Shepherds mate, their puppies will be all black. They will produce a litter of all-black puppies.
5.      Black Dogs Are Not More Aggressive.
Sometimes, people tend to be afraid of dogs because of their striking black coat. They may ask if black German Shepherds are more aggressive. The color of its coat doesn't affect its temperament. The all-black German Shepherd is as intelligent, loyal, and alert as you'd expect from the breed. It is in no way predisposed to being aggressive. The other great thing about any color of GS is that they are easily trained. This is why you may often see them used as military and police dogs, obedience dogs, or service animals for the disabled.
Just like any German Shepherd, they can have a strong protective instinct. They were historically used to herd and protect livestock. They will act the same way with their humans. If it senses a family member is in danger, it will alert and defend them. It's essentially important to train the dog well and socialize her from a young age so she will get along with people and not assume every person is a threat.
6.      They Have the Same Health Problems Common to the Breed.
The German Shepherd breed has some common health problems. The main issue is elbow and hip dysplasia. The condition happens when the ball and socket joint is not formed right. This can lead to arthritis or possible lameness. Helping your dog maintain a healthy weight can help prevent issues. Some of the other possible health problems common to the all black German Shepherd include:
Eye disease
Heart disease
Spinal disease
Allergies
Digestive problems
Cancer
7.      Purchasing an All-black German Shepherd can be Expensive.
Since the all black German Shepherd is rare, it may cost more than others, especially if they have a longer, luxurious coat. You can expect to pay between $800 and $2000 for a completely black GS puppy. GS puppies that are not all black still run between $500 and $1500. However, the all-black variety is still cheaper than some other popular large-breed dogs.
8.      They are Easy to Train
No matter what the color of their coat, the GS breed is easy to train. This is because they are very intelligent, as well as devoted to their owners. Unlike some other breeds, the GS listens to its owners in most real-life situations. They learn different commands easily and usually do them when asked. However, it is important to note that these dogs do need to be trained.
Without proper training, they can become overly protective and possibly dangerous. They should start classes at an early age to get a jumpstart on their training. If you adopt an older dog, make sure to enroll them in classes with an experienced trainer.
9.      Thick Coats Mean More Grooming is Needed.
German Shepherds can have various coat types. How much grooming they need will depend on the thickness of their coats and how much they shed. If your all black German Shepherd has a medium coat, they may only need to be brushed two or three times per week. Brushing helps remove dust and dirt and prevents tangles. Long coats need to be brushed or combed at least once every day. Otherwise, it can become a very tangled mess, and you'll need a professional groomer to help.
When you adopt an all black German Shepherd, be ready for the extra hair as they shed profusely. About two times each year, you will notice that the dog will "blow" their coat. This means the shedding increases substantially.  Shedding can be affected by the climate, but it can also be tied to hormones.
10.  They Need to Exercise
Along with adequate amounts of training, your black German Shepherd will need plenty of exercise. They are extremely high-energy and active. When they don't get enough exercise, they can become destructive. Most destructive behavior associated with a GS is usually because of the lack of stimulation. Shepherds were originally bred for guarding and working with flocks of sheep. They are one of the highest-energy dog breeds. Their need for exercise may vary on factors like their age, general health, food intake, and fitness level. They will typically need at least 90 minutes of exercise every day. This can be spread over the whole day with some mix of activities that include walking, playing, running, and training.
Are You Ready for a Black German Shepherd?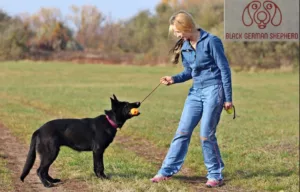 If you are interested in adopting any type of German Shepherd, you should have some experience with dogs. It's important that you have had at least one dog before. Hopefully, that experience will be with an active dog. A small, not-so-active dog is not going to prepare you for the energy-filled GS! Before talking to German Shepherd breeders or checking with a rescue, take into consideration how much work this breed can be.
They will need at least an hour or two of exercise. Puppies will need a lot more. A GS pup will need two hours of exercise without considering all the other types of care they will need daily. The all-black German Shepherd isn't a good place for a new owner to start, nor are they the best breed for the casual dog owner. They need lots of love, attention, and care. With that, they will be your loyal companion for life.