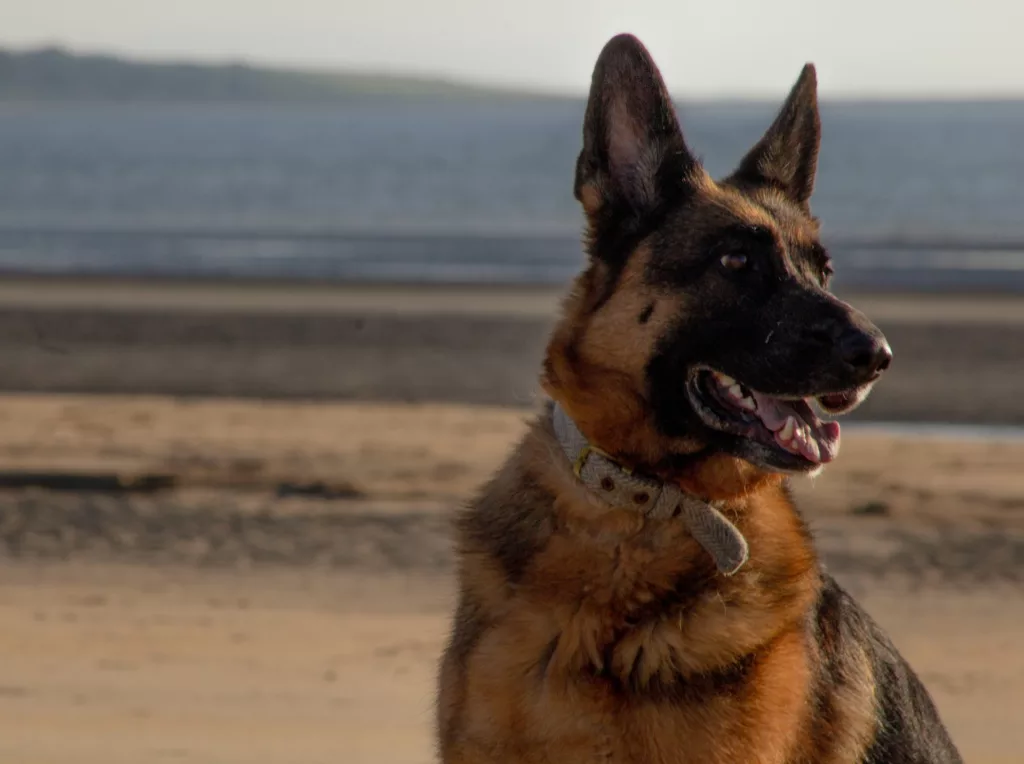 German shepherds and black mouth curs belong to prevalent breeds. Then, what if a black mouth cur mixed with German shepherd?
In fact, it is popular enough for breeders to mix both types. Moreover, mixtures of those dogs make a great pet.
However, you have to keep in mind that it may be suitable for every household. Note that a new dog suiting you & your family's lifestyle can adjust to its new surrounding very well.
So, are black mouth cur mixed with German shepherd puppies for you? Even though this mixed breed is ideal for various home settings, you have to understand its needs.
What Does a Black Mouth Cur Mixed with German Shepherd Look Like?
For your information, this dog has a muscular build of German shepherds. However, this one is usually smaller.
Besides that, this mixed dog features the downward-sloping pelvis as well as broad chest of a German shepherd.
When it comes to physical traits, this combined breed has a distinctive posture commonly associated with purebred German shepherds.
Then, it usually has a wedge-shaped head. In addition, it features big, erect ears with pointed tips.
As a dog lover, you need to know that this cross-breed usually comes with brown & gray colors. Meanwhile, purebred German shepherds usually have a brown & black coloring.
If you have a black mouth cur mixed with German shepherd, you will notice that it has a thick double coat or is smooth-coated.
Indeed, a black mouth cur – Black German shepherd mix may have a cur collaboration. In this case, this mix may feature a mainly brown or tan coat & a black muzzle.
Usually, people identify dogs with this color as a Shepherd mix, although the color of the coat is more consistent when it is with a cur.
What Kind of Typical Personality for a Black Mouth Cur Mixed with German Shepherd?
Even though this mixed breed is not high-maintenance, it needs attention like any other dog does.
For your information, this dog does better in the house than in a backyard. However, make sure that your house has an access to a backyard with a strong fence.
Furthermore, a daily walk and some exercises in the yard will make this dog happier. You also need to know that this mix has a strong protective instinct towards its family members.
When owning this mixed breed around your children, you will find that this dog is a very loyal companion.
How Is This Mixed Breed with Other Pets?
Since it is puppy, this mixed breed gets along with other pets very well. But because it is protective towards its family, it may not accept other new pets.
So, if you want to add another pet or introduce a new black mouth cur mixed with German shepherd, you should see how they get along.
Although it may be slow to accept another dog, it was bred to work with others. So, you should not worry to consider adding new pets, especially dogs.
If you introduce new pets properly, your dog will get along without any serious problem. The key is that reasonable supervision will make the difference.
The Origin of a Black Mouth Cur and German Shepherd
Before you are looking for black mouth cur mixed Black German shepherd puppies for sale Florida, it is important to know about the origin of each breed.
Starts from the black mouth cur, it is an American breed that is developed from some types of dogs. In the South, this breed is well known for a farm use.
Anyway, it has European and Asian origins as well.
Usually, black mouth curs come from Tennessee, Alabama, or Mississippi. Meanwhile, people use purebred black mouth curs for hunting or herding.
In fact, their instinct is very useful for their protective nature.
On the other hand, the German shepherd is mostly developed in the early twentieth century. In this case, Germans used this dog for a guarding flock and as a military & police work.
In the US, German shepherd belongs to the most famous breeds. Both show and Black German Shepherd working Line have a contribution to the mixed bloodlines that include German shepherds.
Due to the function that this breed serves, both black mouth curs and German shepherds contribute protectiveness to this mixed breed.
So, a black mouth cur mixed with German shepherd excels either as a working dog or a pet.
The Best Home for a Black Mouth Cur Mixed with German Shepherd
There are some things you have to keep in mind about this mixed breed. The following traits are helpful to decide whether your home suits this dog.
Do you live in a condo or apartment? So, the exercise requirements of the dog may not work for your need.
But there are still other things to consider. In fact, both breeds generally bark a lot and it can be a problem for the dog, especially if you often leave it home alone.
Besides that, you also need to consider your lifestyle and if it involves outdoor exercises frequently.
If you go jogging or walking frequently, this dog can be an ideal companion. In addition, this dog is good as a hiking companion, too.
Best Activities for This Mixed Breed
This mixed breed is best for outdoor activities involving the whole family. This dog also has a strong hunting instinct.
Although you do not hunt, this instinct will be useful for games like tracking. So, the dog can quickly learn how to do it.
Where to Get a Black Mouth Cur Mixed with German Shepherd
If you want this cross breed, you need to know that breeders breed this dog from lines with a herding or hunting background.
Commonly, you can find mixed breeds in shelters. So, there is a great chance to fund this mixed breed there.
Besides that, rescues in Southern states also usually have this dog.
When adopting a black mouth cur mixed with German shepherd from a rescue or a shelter, it means you help out a dog which needs a better home.