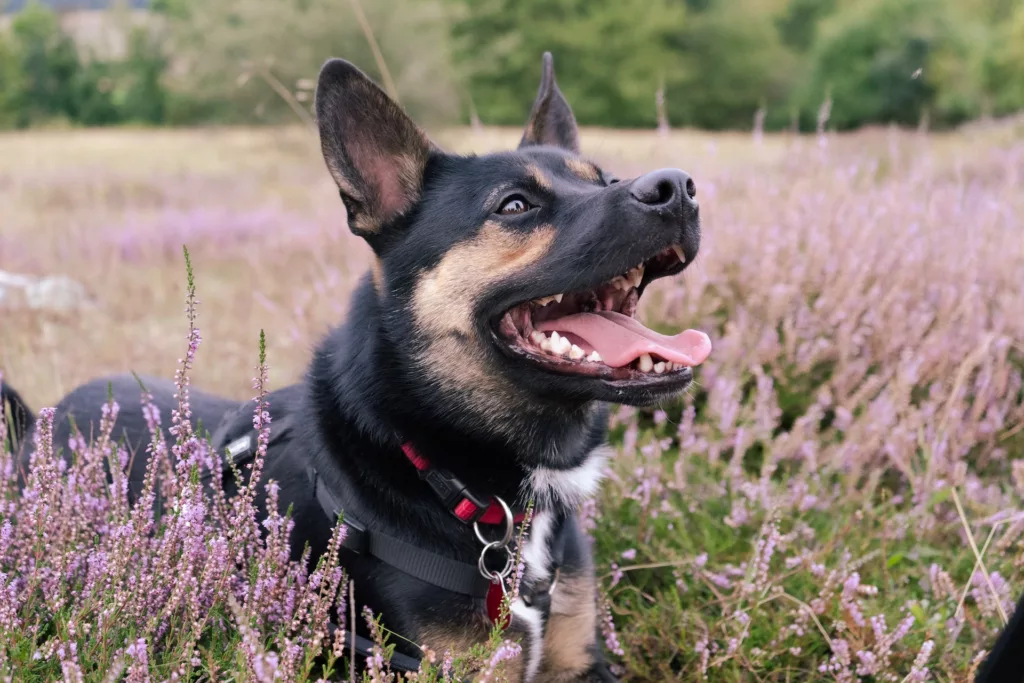 Now, mixed breeds are getting more and more popular. One of the most popular mixed dogs is a black mouth cur mix with German shepherd.
If you want to know if it can be a good addition to the family, make sure that you keep reading and pay attention to this article!
Why Mix a Black Mouth Cur with German Shepherd?
We know that Black German Shepherd is more famous. However, a black mouth cur has great traits, making it a well-rounded dog.
A breeder who crosses a German shepherd with a black mouth cur wants to create an ultimate dog for herding, hunting, and personal protection.
Usually, a black mouth cur mixed with German shepherd puppy is the result of an accident mating.
Is a Black Mouth Cur Mix with German Shepherd a Good Guard Dog?
As a protective and loyal dog, this mixed breed can be a perfect guard dog. It is fast to learn & respond to training very well.
Besides that, it has a great work ethic. In addition, this dog is eager to please its owner or breeder.
In addition to being intelligent and having a good sense of smell, it is also family- and children-friendly. However, it requires plenty of exercise as well as like to play & run.
A black mouth cur mix with German shepherd is not only independent but can also be stubborn. This dog will usually bark when seeing a stranger.
Black Mouth Cur Mix with German Shepherd Cost
Typically, this mixed breed costs around $500 to $1,000. Of course, the price range will depend on some factors like the parent's certification, the litter size, or the breeder's experience.
The price can even be higher if you buy it from a breeder who has extensive experience. The certified parents and a litter of 6 or fewer puppies can also cause the higher cost.
In America, German shepherd belongs to the most famous breeds. That's why a black mouth cur GSD mix is also very popular.
Is a Black Mouth Cur Mix with German Shepherd an Ideal Dog for You?
This breed mix is a cross between a German shepherd and a black mouth cur. Of course, this mix is not right for everyone because it needs a lot of training and exercise.
But if you like the challenge, this mixed breed will be a good companion.
Since it is an energetic dog, you have to provide it with exercises. If you cannot provide it sufficiently, you should not consider owning this mix.
We know that this mix is intelligent and trainable. But if you do not want to put in the effort and time to train it, this dog is not right for you.
Meanwhile, if you want a protective and loyal companion, this mix will be ideal for you. But if you cannot handle this high-energy dog with the required exercises, this do does not suit you.
Is a Black Mouth Cur Mix with German Shepherd Good with Other Pets?
As we have mentioned above, a black mouth cur mix with German shepherd is family-friendly. Then, how about with other pets?
For your information, this mixed breed may need early socialization with other dogs or pets. Besides that, its instinct may come into play.
Then, it will get along with any pet growing up with it together very well. So, you should not need to worry with other pets you own.
What Does a Black Mouth Cur Mix with German Shepherd Look Like?
Black mouth curs take more of German shepherds look. They have the signature brown black cue coat.
However, you will also see sable accents borrowed from the coat of German shepherds. In addition, you will see the German shepherd's curved back.
As a result, it gives this dog a better posture. Besides that, it also makes the dog more agile when doing tasks.
Moreover, these dogs have a wedge-shaped head as the german shepherd wolf mix characteristic. Then, brown and grey are other famous coat colors for this mixed breed.
When it comes to coat texture, this mix has either a thick & fluffy double coat, smooth hairs, or a single coat.
Certain puppies also inherit the both parents' smooth skin.
Black Mouth Cur Mix with German Shepherd's Temperament
Its temperament may be the first thing you will notice about a black mouth cur mix with German shepherd.
Because of its introvert nature, this dog likes to stay indoor & closer to the owner. Sometimes, this dog spends time basking in the sun in the backyard or garden.
Keep in mind that you must exercise it regularly and intensely. In fact, this will help the dog to prevent destructive behaviors.
Because of the gene of German shepherd, this mixed needs plenty of exercises. So, you may take it out for walks every day.
Of course, it will help the dog to socialize to new smells & sights.
Conclusion
In conclusion, a black mouth cur German shepherd mix can be a perfect working dog. It is not only a sweet loving puppy.
However, it is also intelligent, courageous, loyal, and protective on its family. This Black German Shepherd guard dog needs a family with an active lifestyle in order to meet its physical activity needs.
Then, it can give your family a lot of fun every day.
Considering its characteristics and natures, a mix of black mouth cur and German shepherd can be ideal for those who want protection and companion.
This dog is docile and calm indoors. However, it is very active when outside.
If you have allergies related to pet, this dog is not suitable for you. In fact, it sheds over the year.
So, do you think that this mixed breed is for you? If you do, make sure that you do some researches first before purchasing it from a reputable breeder.
To sum up, this dog does not suit everyone. However, if you are ready to handle it well, a black mouth cur mix with German shepherd will be ideal to accompany you.