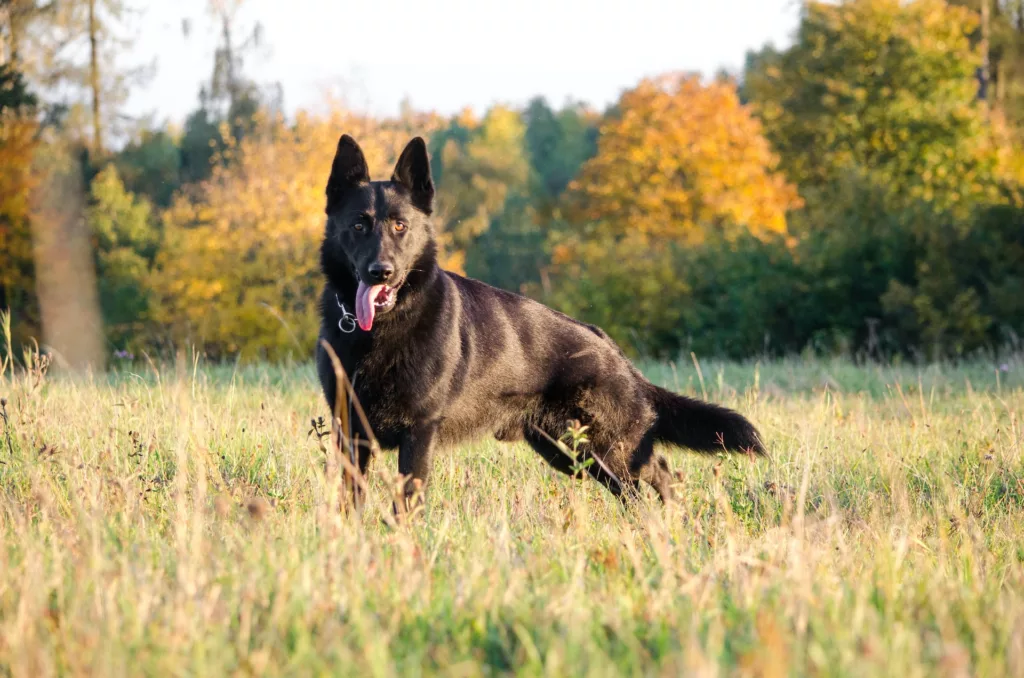 If you think that the German shepherd comes in tan and black only, you are wrong. In fact, there are still many other color variations including the German shepherd black sable.
Sable black belongs to the AKC-registered colors of German shepherds. Most varieties of color come with black masks.
Besides that, some they usually have black body markings that range from classic saddle to overall blanket.
What Is the German Shepherd Black Sable?
Black sable is a German shepherd's classic color. It comes in different colors.
However, each hair features a black tip. In addition to Black Sable German Shepherd puppy, this dog can also be tan, silver, red, gray, or black.
Usually, people also call black sable as agouti. Actually, agouty is a kind of coloring that also presents in other breeds like Agouty Husky.
Here, each hair comes with some bands of black and brown. Then, it leads to a typical coloration that looks like wolf.
Some German shepherd breed founding members believe that it is the only color of German shepherds.
For your information, the black sable color changes throughout a dog's life. A black sable German shepherd is born as an all-black puppy.
Meanwhile, a tri-colored sable German shepherd is born as a black & tan puppy.
Then, their coat coloring changes as the dog ages. Some German shepherds take 3 years to get the final black sable coloration.
Of course, every black sable GSD is different where both the color & pattern vary. That is what makes a German shepherd black sable unique and eye-catching.
The fact is that black sable belongs to a dominant coat color and it is easy to breed for.
Therefore, when breeding a black sable GSD to any other coat color, you will tend to get a black sable puppy.
Is a German Shepherd Black Sable Rare?
The good news is that black sable is not rare for German shepherds. So, I can easily find German shepherd black sable puppies for sale near me.
Moreover, we can say that black sable belongs to one of the most famous & widely-known German shepherds.
As a German shepherd lover, you need to know that black sable GSD comes with a few possible colors. It can be fawn, tan, grey, red, silver, liver, or light brown with black-tipped hairs.
When it comes to sable coat colors, patterns, or markings, there are some varieties available. One of the most common and popular ones is black or dark sable.
The dark sable German shepherd is almost black and has lighter fur behind black tips. Besides that, a dark sable German shepherd comes with rich, deep black coloration.
Typically, German shepherd puppies with dark or black sable coats are not more expensive. However, they can be much pricier if they have champion bloodlines.
Is the Black Sable Same as the Dark Sable German Shepherd?
You have to keep in mind that a German shepherd black sable has a tan, silver, red, cream, or fawn coat and black-tipped hairs.
Then, the black sable color will change as they age. It means, a black sable German shepherd cannot stay the same forever.
Anyway, they are common enough. That is why it is not hard to find breeders who have German shepherd puppies with this beautiful color.
Meanwhile, a dark black sable GSD comes with a dominant black coat and lighter fur behind the tips.
We can also say that the black sable GSDs feature a black and light bicolor coat and dark-tipped hairs spread on their fur, especially the lighter parts.
Is a German Shepherd Black Sable the Best Color?
Considering the recessive liver & blue combination, the Isabella is the rarest German shepherd coat color.
If you want to have it, you may need to look for a puppy for a long time. Even more, the price is more expensive.
Meanwhile, black sable German shepherd is common enough. You cannot only find them easily but their prices are also lower.
But when it comes to the best GSD color, people usually say that it is black & tan. Then, black and sable follow it as the second best.
However, it depends on you whether you prefer black sable or any other color. Moreover, you can choose any color if you do not consider the AKC-registered colors.
For working dogs, people usually do not like white German shepherd dogs. Commonly, people think that they are weak.
But this is not true at all because their working abilities are also good. So, we can say that it is only a myth.
Is a German Shepherd Black Sable the Original Color?
For your information, German shepherds belong to working dogs. So, the original breeders focus on temperature, not appearance or look.
As a German shepherd lover, you need to know that the working GSD's original color is sable. It means, German shepherd black sable belongs to the original color of the GSD.
Furthermore, in the show ring, the most traditional coat color is tan and black.
The Bottom Line
In conclusion, you will be able to find German shepherd dogs in various colors. So, you have to choose the color you love the most.
Here, ensure that you will never select your German shepherd based on the appearance or look.
Then, the German shepherd is also prone to hip and back issues. Before you purchase a pup for his color, ensure that the breeder chooses for the healthiest first and the color second.
If you focus on his color, you might get a pup with a beautiful color but a poor health. Of course, it is not something good.
Compared to other standard Black German Shepherd, black sable will not have much difference. The primary difference is their coat color.
It relates to the dominant gene inherited by the parents with black sable coats. Otherwise, they will have the similar needs and temperament as other German shepherd dogs.
So, if you are interested in a German shepherd black sable, you can still consider or even prioritize the health.