When you have a high-energy dog at home, controlling their impulses is tough. They can be destructive and out of control if they are not trained and exercised well. Many pet parents do not realize it before choosing a breed and end up paying tonnes of money to a behavioral trainer when the situation gets out of hand.
Pet parents fail to realize that as a puppy, it is easier to control the same traits in a dog compared to when they are adults due to their size. Large dog breeds have higher energy but can be tough to handle due to their size and strength. If a Chihuahua is getting out of control, you can easily pick it up and discipline it, but the same can't be done with a GSD or a GSP dog as they are medium to large dogs.
I met two dog owners recently; one had a Golden retriever, and the other was a German Shorthaired Pointer. These canines are from hunting lines, which automatically means they have high energy because of how they were bred.
They had come to take training from a dog trainer as they described their dogs as out of control. They were always excited to greet people, jumping on everyone, and sometimes they had zoomies.
One family practiced forced techniques using prong collars to minimize the behavior, but the level of aggression was escalating. The other family had been trying positive reinforcement, and the dog had come a long way. This only proves further the dog needs to understand the right way to behave rather than being forced to do so.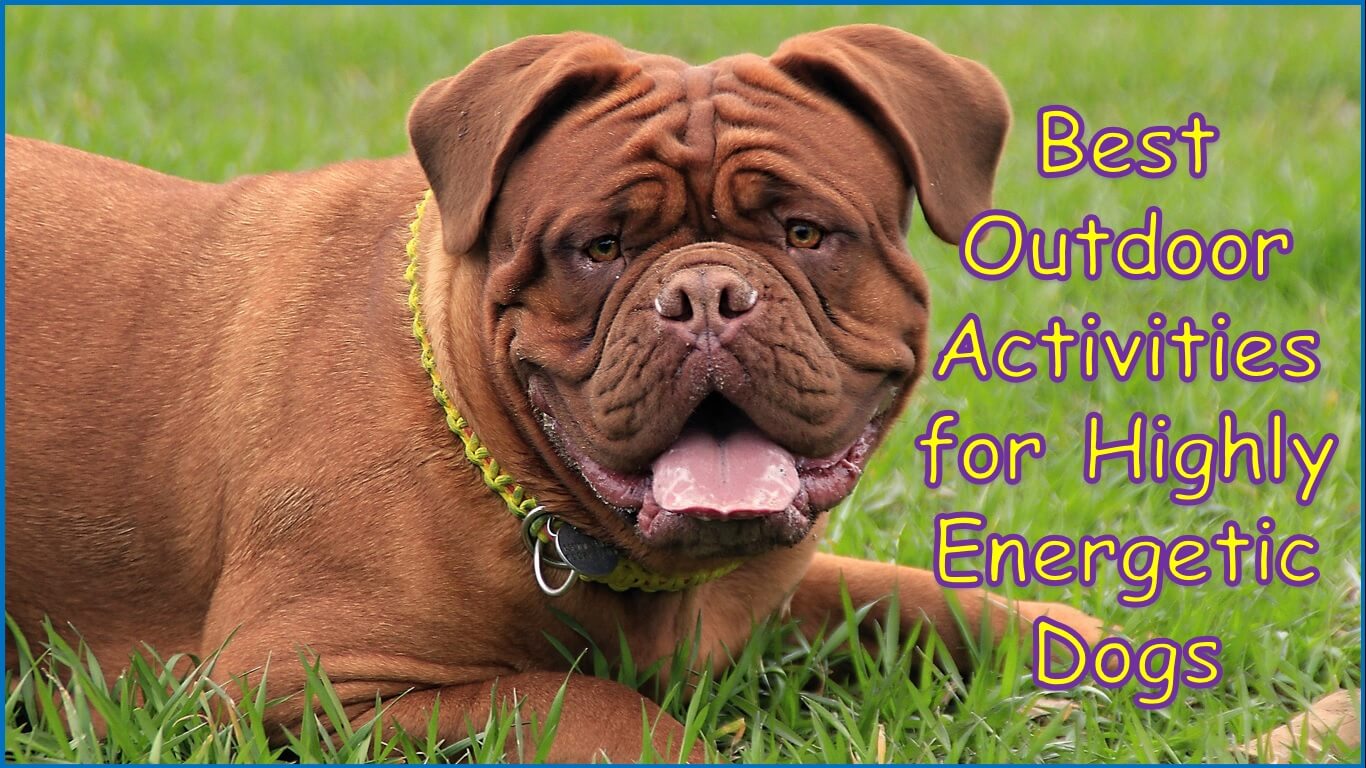 High-Energy Dogs: Is It Normal?
It is normal for such breeds to possess high energy because they needed that stamina to hunt back in the old days. But now, these dogs are made to sit inside the house and handed over chew toys to play with. You can see the vast difference between what they were bred to do and what they are doing now. Hunting is a strenuous mental and physical activity, and challenging your dog to reach that level is tough in everyday scenarios.
This is why most large-breed dogs are always so energetic and out of control. These dogs need more physical exercise and mental stimulation to meet that need. This will curb unwanted behavior at bay. Offer a lot of off-leash ties to these dogs, or they will act destructive. If you cannot offer adequate physical workouts, then better go for a smaller dog breed that needs a little physical activity.
Taking your dog on three hikes per day is the ideal scenario, but you may not own acres of land; hence, we have come up with some alternatives here.
1. Play Fetch in a Fenced Backyard:
If you do not have access to a farm, no worries, you can always let the dog play in your backyard. Your backyard should be adequately fenced so that the dog does not escape.
If you own a backyard, then do not just leave the dog there and assume it will play. You may believe your dog is self-exercising just to find it taking a nap there. You need to engage the dog in a game such as fetch. Most dogs love to fetch, especially retrievers. Make use of a ball or a frisbee to play with the dog.
When not engaged, the dog may get aroused due to something outside the fence and run uncontrollably, which might cause an injury or more inappropriate behavior. Instead, play with the dog to tire it, so it calms down.
2. Tug:
Dogs love tugs, and this is something you can play any time of the day. Tug can be played both indoors and outdoors, but it is enjoyable for the dog. Use a longer rope to play tug to be safe so that the dog does not grip your hand instead. You can also use a flirt pole to do the same. Just attach the rope at the end of a sturdy stick to keep her teeth away from you.
Many dogs get into a playful mood just after a meal, but your dog should not be running around immediately after a meal due to the fear of a stomach twist. The tug is the perfect game to play in such a scenario as it does not involve running.
3. Exercise on a Long Leash:
If you cannot find a fenced backyard, then the alternative is to let your dog be on a long leash in an unfenced open space such as a beach or grassland in a public park where dogs are not allowed off-leash.
You must manage the long line carefully, as it can easily get tangled around the trees or bushes. Use a long leash with a harness rather than a collar, as the line may get tangled, and you do not want the dog to hurt its trachea if it hits the end of the line. You can include a bungee cord connection to avoid hurting the dog. A retractable leash is also a great idea.
If you do not wish to use a long leash, then you should teach your dog a solid recall so that as soon as you sense danger, you call the dog back, and it responds to your command immediately. This is extremely important for the safety of your dog.
4. Dog Park:
Most communities have a local dog park, an area where your dog can be left off-leash. It is not just an area where the dog can run around but also interact with other dogs, helping them with mental stimulation. Your dog may not have a personal fenced yard, but a dog park can be equally enjoyable, just like kids enjoy in parks.
They can make friends and socialize with other humans, too. It might take some time for your dog to get used to the idea, but if it becomes comfortable, then it is the best and easiest way to exercise it both physically and mentally.
5. Puzzle Toys:
When you cannot take your dog out on a rainy day or late in the afternoons, mental stimulation is another way to engage and tire the dog. Several dog puzzle boards can be purchased on the market. These puzzles hide treats, and the dog needs to solve them to get to the treat. If your dog loves treats like most of them, they will not give up until they solve the puzzle. These simple games can mentally tire the dog quickly.
The Bottom Line:
Calming a high-energy dog is not an option but a necessity for the well-being of the dog as well as your mental peace. Living with a highly hyperactive dog leads to destructive behavior, which your family member would not approve of. Taking such dogs in public places is also challenging, as they are unpredictable. Instead, a well-exercised dog is calm and composed and behaves well.
Being around a dog should be enjoyable, and you can sense that when you are around a dog that is physically and mentally challenged throughout the day. Engaging with the dog also ensures you are physically and mentally fit; hence, it is a win-win for you and your furry pal.
See Also: