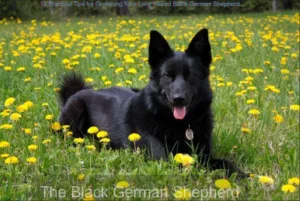 The long haired black German Shepherd is beautiful. Their coat needs special care. Dogs in this breed make great companions and can become warriors when it comes to defending their owners and their homes. If you want a large dog or one with longer hair, you need to make sure of the commitment it will take before you make the purchase. Grooming a black German Shepherd with long hair will require a lot of work, so you need to be prepared. It's a lot of responsibility to care for a larger breed dog and one with a long, thick coat. But with a few helpful tips, the chore can be made a little bit easier.
Caring for a Long Haired Black German Shepherd
It can be complicated to take care of any dog of any breed. Each breed will require a unique approach. Having a long haired dog will mean that you need to provide more grooming than a short-haired variety. Taking ownership of a long haired German Shepherd can be fun and easy if you have the right information.
By learning how to keep your dog looking beautiful and healthy, you'll be able to enjoy the relationship. All types of dogs require special attention; you just have to learn how to take care of your particular breed. Here are 10 practical and useful tips for grooming your black German Shepherd.
Grooming Tip #1: How to Keep Your Dog Calm When Grooming
If your dog is over-anxious, it can make it harder to groom them. For some dogs, teeth cleaning, nail clipping, and brushing can be stressful. Here are three steps to help you keep your long haired black German Shepherd calm during the grooming process.
Groom the dog within 30 minutes after they exercise. They should have a little energy, but you don't want them to be sleepy.
Set a grooming schedule to create consistency. They will adapt to the schedule more easily.
Use a soothing tone to praise your dog while you are grooming them.
Set a starting point for grooming and follow the same path each time.
The more you groom your dog, the faster the process will become.
Grooming Tip #2: Keep Up With Regular Brushing
The long haired German Shepherd has a single coat that will require regular brushing. In general, the dog will need to be brushed at least every other day. When you keep the dog brushed, you can avoid knotting and having too much loose hair. The dog is going to shed its coat during the year, and the long hair can become a problem for homeowners. It can clog the vacuum cleaner and can be on your furniture. Regular brushing can help reduce the amount of dog fur on the floors.
Grooming Tip #3: Remove Tangles Carefully
You may need to experiment a little bit to find a brush that works for detangling your dog's fur. A metal grooming comb works well for most dog owners. Other dog owners find that a slicker brush works best for them. It's also a good idea to have some spray detangler on hand. To groom your black German Shepherd with long hair, spray the detangler onto the brush, then gently glide it through the matted or tangled hair. If you hit a knot that is difficult to remove, hold the brush vertically, then brush downward.
If the mat or tangle still cannot be removed, you may need grooming shears to cut it out. Please note that a long haired black German Shepherd should never be shaved. If you feel like it is necessary, talk to your vet first.
Grooming Tip #4: Don't Bathe Your Long Haired Black German Shepherd Too Much
Inexperienced dog owners may feel like their long haired German Shepherds need frequent bathing. While the dog's coat can collect plenty of dirt, frequent bathing is not good for German Shepherds. They have very sensitive skin that can become too dry if it comes into contact with water too often.
Your long haired black German Shepherd only needs to be bathed about once per month. It is okay to occasionally shampoo the dog more often if they get too dirty, or if it has fleas. Try to keep the shampoo from touching your dog's skin when bathing them.
Grooming Tip #5: Trim Your Dog's Toenails
Having long toenails is any type of dog's worst enemy. When their toenails are too long, they can hurt themselves. It's also much easier for them to scratch you or your loved ones. Additionally, long toenails tend to break off. Keep a close eye on them and check them at least once weekly. If they are too long, clip them. Your black German Shepherd may not like you trimming their toenails.
When trimming your dog's toenails, be extremely careful. It's better to leave them a little bit longer than it is to cut them too deeply and cause them to bleed.
Grooming Tip #6: Keep Your Long Haired Black German Shepherd's Ears Clean
Your dog's ears are the most sensitive part of its body. That's why it is so important to keep them clean. Check its ears at least once per week. Their ears tend to become covered with debris, dirt, and ear wax. You can use ear drops to help clean the dirt out. Just a few drops on a soft cloth can be effective. Do not clean your dog's ears using tap water, as it can cause an infection. Wait until your black German Shepherd is calm before you begin cleaning its ears. Don't do the grooming in a crowded area, and try to avoid making any loud noises to help keep them calm.
Grooming Tip #7: Clean Your Shepherd's Eyes
Once a week, you'll need to clean your black German Shepherd's eyes. Use a warm, moist cloth to gently wipe the inside corners of its eyes to remove the little bit of discharge and dirt. You can also use a soft sponge or a cotton ball to clean its eyes. Don't use the same cloth, sponge, or cotton ball to clean both eyes. Use a totally new cloth, cotton ball, or sponge for each eye to help avoid any infection.
Cleaning your dog's eyes weekly can help alert you to any issues that might develop. If you notice any redness or swelling around your pet's eyes, call the vet to get your dog's eyes checked. A small amount of discharge is normal, but a large amount of discharge needs to be checked by your vet.
Grooming Tip #8: Make Routine Health Checkups
Different breeds are prone to certain diseases and health problems. The long haired black German Shepherd is predisposed to the same types of health problems as the regular GSD. They can have hip dysplasia, eczema, stomach problems, or epilepsy. Your black German Shepherd needs an annual vet checkup at the bare minimum. The vet may include blood tests, x-rays, and a variety of other diagnostic tests. The vet can tell a lot about your dog's health by their coat appearance.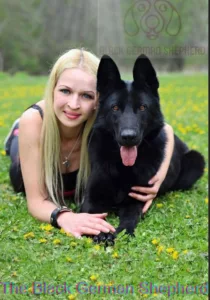 Grooming Tip #9: Maintain Good Living Conditions for your German Shepherd
The long haired black German Shepherd is definitely an indoor dog. Even though their coat seems thick enough to protect it from weather conditions, it really isn't. For most dog owners, the strong emotional attachment that develops between them and their dog makes it impossible to keep the dog separate. You'll want to create a clean living space for your dog to live indoors.
What will you need to make your pup feel at home? Start with a bed that is designed for larger dogs. They may want a few toys to put in their space so that it becomes their own. Many owners prefer to use a crate for their larger dogs.
Grooming Tip #10: Provide Plenty of Exercise
To ensure your long hair black German Shepherd stays healthy, you'll need to provide extensive exercise daily. It will not take you long to discover that the German Shepherd has an amazing amount of energy that needs to be spent. The GSD makes a great indoor dog, but they will need lots of time and room to run around outdoors. Regular exercise will help keep your black German Shepherd healthy, including their beautiful long coats. They will want to do a lot of active outdoor things like games, running, walking, or jogging. It's a good idea to let your dog join you when you exercise so you can both get the exercise you need to stay healthy.
Taking Your Long Haired Black German Shepherd to the Groomer
These 10 practical tips for grooming a long hair black German Shepherd can help you maintain your dog's beautiful coat and manage shedding. Your dog needs regular grooming. Without it, their fur can mat, nails be unruly, and develop excessive dander. You can do a lot in between taking them to a professional groomer, but it's still a good idea to take them to a professional groomer about every six weeks. Some dogs do better with a groomer than they do with their owners.
Making appointments every six weeks can ensure that your dog's fur, skin, and nails stay in good condition and won't suffer too much between visits.