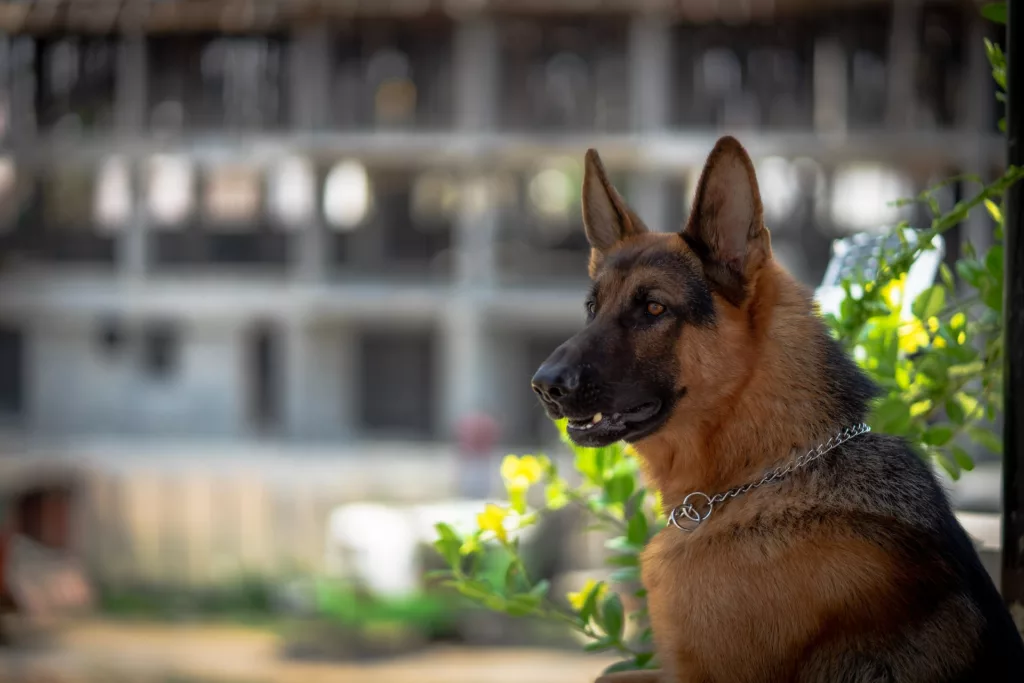 Usually, what comes to mind when thinking of German shepherds is a tan black German shepherd. But actually, there are still many other colors recognized by the AKC.
What Factors Determine the Color of German Shepherds?
Commonly, genetics are the biggest thing determining the unique coat of a Black German shepherd. Each parent carries 2 sets of genes influencing their coat colors.
In this case, the first set of gene is the main or base color gene, determining the basic hue & coat pattern.
For example, a tan black German shepherd puppy will come with a black primary color gene. Meanwhile, the sable one will come with a brown primary color gene.
Then, the 2nd genes set is modifiers, that can darken or lighten certain areas on the coat to create a more variation in patterns and shades.
In addition, those modifiers can produce more seldom colors such as blue and white German shepherd dogs.
Some owners can be lucky to get a beautiful puppy from these 2 gene sets. While others may have to breed specific lines to get their desired appearance.
What Is a Tan Black German Shepherd?
Typically, tan and black is the color coming to mind when most of us think of Black German shepherd breed. In fact, German shepherds are handsome dogs.
They have a black pattern that looks like a saddle. This beautiful black pattern runs across their back.
Besides that, German shepherds usually have a black face, too. Under that, there is a kind of tan coloring although the shade varies including a deep brown, silver, etc.
So, a tan black German shepherd belongs to the most beautiful varieties of this breed. Furthermore, the German shepherd tends to lighten when getting older.
Therefore, your German shepherd puppies can look very different throughout their life.
Tan Black German Shepherd Look
This combination of color is the bread & butter of German shepherds. Mostly, people love German shepherds with this coat color.
This color combination is common enough. However, there are still some variations.
For your information, their tan fur may change from deep hues to shades that almost look like silver color along the edges.
Usually, the black color comes with a pattern that looks like a saddle along the back. This black color can also vary in size.
What you have to remember is that German shepherds with this lovely pattern commonly starts life darker & lighten slowly as they age.
If tan black German shepherd breeders want to know how a puppy's coat develops in adulthood, they have to meet the both parents.
In German shepherds, dark coloration, especially black, is recessive. Therefore, if the parents show the tan and black color, the puppy will usually have the same color.
Coat Types of Tan Black German Shepherds
German shepherds may have either long, medium, or short coats. Generally, tan black German shepherd dogs feature thick & undercoated fur.
Furthermore, their coat types can be long, thick & fluffy, medium thick, dense & thick, short, and furry around the tail, chest, ears, or on their legs' backs.
Is Tan Black Really an Accepted Color of German Shepherds?
As we know, there are many color combinations accepted by the AKC. Then, tan and black is one of them.
However, it does not mean that German shepherds with faulty or unacceptable colors are not purebred.
Actually, they do not match the standards of the breed for show. So, they are only faulty in terms of sense that cannot participate in a dog show.
Of course, coat & color belong to standards & sets of criteria to look at. Then, others include fitness, specific disease & characteristics, appearance, genetic health, etc.
In addition, they have to qualify in some tests for different factors such as sports, specific work, and agility.
White is one of the unacceptable colors of German shepherds. Other unacceptable colors include light & dark liver, yellowish white, and dark blue.
Is a Tan Black German Shepherd Same as a Bicolor German Shepherd?
At the first glance, the bicolor looks similar to the black and tan coonhound German shepherd coonhound mix version. Even more, some people argue that it must be a variation, not its own color.
However, it is now categorized separately. So, we can clearly say that tan black German shepherd is different from bicolor German shepherd.
For your information, bicolor German shepherds are generally black. However, they come with brown or tan fur on their chest, legs, and also under tail.
Mostly, baby bicolor German shepherds are black. So, it is difficult enough to distinguish them from black German shepherds.
But usually, they come with brown under their tail, indicating how the color changes as they age.
Here, the black color is very dominant. In fact, almost the whole body is black.
As a dog lover, you have to understand it well. So, you can distinguish a tan and black German shepherd or bicolor German shepherd from the solid black sibling.
Is a Tan Black German Shepherd Right for You?
Of course, it depends on you. If you want a German shepherd as a pet or companion, the top criteria must be your personal preference.
If you love how a German shepherd looks, you can choose it accordingly. So, there will not be wrong choice.
But if you are interested in breeding German shepherds or if you consider exhibitions, it is better to choose richer colorations favoring tans and blacks.
Sadly, white German shepherd dogs are out of the picture even though they have an aesthetic look. I really suck because I am a white dog fan.
Anyway, German shepherd coloration includes various options where each is just colors.
You have to always remember that no color can indicate better skills, temperament, health, and anything else.
Therefore, it is up to you as well as how you treat, train & raise the German shepherd.
In addition to tan and black, cream & black, silver & black, black & red, blue, liver/brown, white, black, bicolor, and sable belong to standard colors by AKC for German shepherds.
Now, if you really love a tan black German shepherd, you can start looking for a reputable breed for purchasing it.