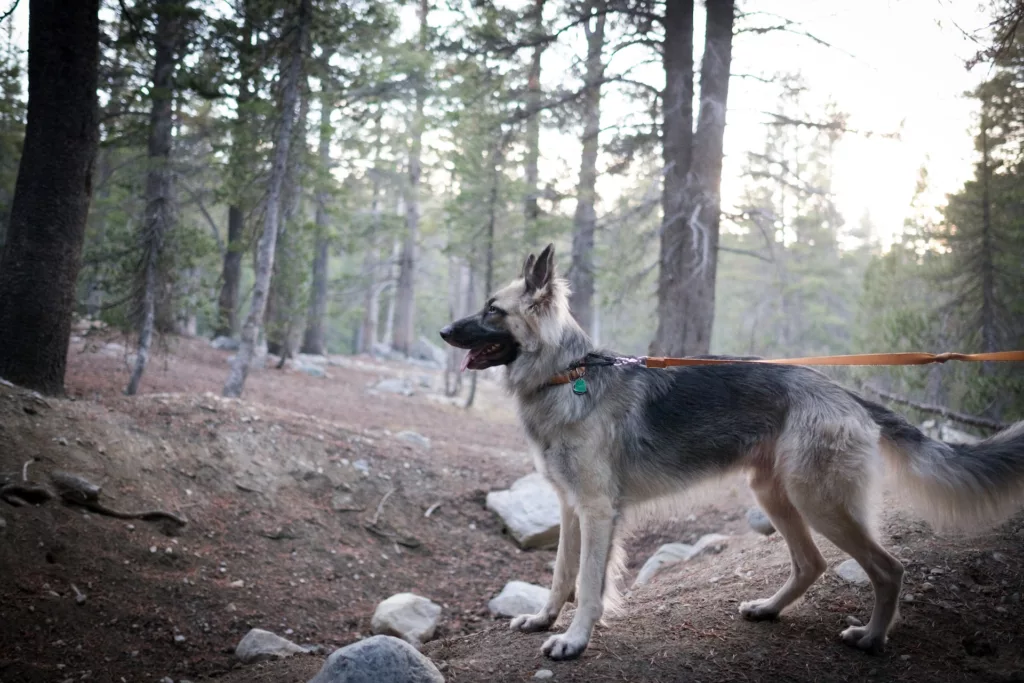 Black and silver German shepherds are special due to their milky, cold-toned color. Some people think that they are wolf descendants.
Anyway, they are similar to other Black German shepherd as they belong to the same breed. However, there are various colors available.
If you are interested in this breed, the color will not be a big deal breaker because their personalities are same no matter their coat color.
But people have their own preferences for physical attributes. Therefore, you would like to buy a specific color like the black and silver German shepherd puppy.
About Black and Silver German Shepherds
When thinking of German shepherds, we generally think of black & yellow one. So, black and silver is not a usual coat color of GSDs.
Black and tan or yellow belongs to the most popular online. You can find it in TV shows or film acquisitions.
With unique coat color, the black and silver ones look more faded and cold-toned. Then, how can the silver color come?
For your information, the silver color may result from nature that activates a passive gene the GSDs have carried for centuries.
You may have ever seen these shades in wolves. Because of the uniqueness, many people love German shepherds with this coat coloring.
Black and Silver German Shepherds' Physical Traits
In general, German shepherds are strong, powerful, and robust. Therefore, people breed them to work & endure different types of working conditions.
Since people often call them livestock dogs or herding dogs, black and silver German shepherds can run for miles. In addition, they have great power and stamina to do those activities.
As large dogs, they weigh 55 – 90 pounds and measure 21" – 27" tall. It depends on the parents' size and whether your dog is male or female.
Then, these dogs are popular for their pointed, erected ears. Since the puppies' ears are folded, their ears become up-right when getting older.
With an athletic body, they have a thick double coat protecting them from any harshness. Although many colors are available, this color is unique & rare enough.
Black and Silver German Shepherds' Behavioral Traits
In addition to their intelligence and work ethics, silver black German shepherds are also popular for their friendliness and loyalty.
Besides that, they are excellent for various jobs such as police dogs, herding dogs, therapy dogs, and search & rescue jobs.
Furthermore, they require constant attention and mental stimulation. Without having any purpose, they can be anxious, depressed, or destructive in some cases.
They also require space for running freely. That is why we never recommend these dogs for smaller apartments.
Then, these dogs are appropriate for a household with active families, a big farm or yard, and room to freely roam around.
Even though the bark loudly, they are love their family members so much. They are also gentle with children and protective over all the family members.
Black and Silver German Shepherds Health Problems
Actually, the coat color of German shepherds does not affect their health. But black and silver German shepherds, and the whole breed, are susceptible to some health problems.
Therefore, you have to look for reputable black and silver German shepherd breeders who do responsible German shepherd breeding.
Besides that, make sure that you choose a breeder who does screening, with regular genetic mutation test and vet check.
Because they belong to large dogs, they often face health issues such as elbow dysplasia & hip dysplasia.
For your information, these conditions are badly adjusted joints. If they grow, these conditions feel more painful cause problems by their movements.
So, it is better to prevent these conditions if possible. For prevention, you can buy a puppy from a trusted breeder. But sometimes, breeders also cannot predict the health of their dogs.
Fortunately, surgery can always be an option when these conditions happen to your German shepherds.
Still related to German shepherds, they are prone to some other health issues, too. They include ear infections, skin allergies, Von Willebrand's disease, bloat, and degenerative myelopathy.
For older dogs, back problems also belong to the most common issues. Since their back is naturally curved, they may suffer back problems like back pain.
We know that they are agile and quick but their agility can also cause aches & pains.
So, you cannot only focus on the color. When purchasing black and silver German shepherds, you should pay attention to their overall health.
Taking Care of Black and Silver German Shepherds
Because of their great energy level, German shepherd black sable require exercise every day for about an hour/session.
To avoid boredom, make sure that you give them fun training and exercises. Harmful activities can cause mental problems to them.
Not only physical activities, but German shepherds also require mental stimulation. Therefore, it is a good idea to challenge them with trick learning or agility training.
Then, they belong to low-maintenance dogs because they do not need complex upkeep methods.
You just need to brush them 2x a week because they have double coats that shed a lot. Their coats may shed more during the shedding season.
In addition, you should clip their nails regularly. Also, we recommend you to clean their ears using a wet wipe to prevent ear infections.
Moreover, you should also pay attention to their dental hygiene. Brushing their teeth and giving dog toys to them can reduce possible plaque buildup.
One more thing, they just need the right amount of exercise, socialization, as well as an owner who takes care of them, cherishes them, and respect them.
Finally, we can conclude that black and silver is a unique coat color. So, if you like this version, you will be happy with this dog.
The most important thing is that you get it from a trusted and reputable breeder. Even though it does not guarantee a healthier dog, it helps you to get a dog with a proper care.
Black and silver German shepherds have an outstanding temperament. That is why it belongs to the world's most intelligent breeds.